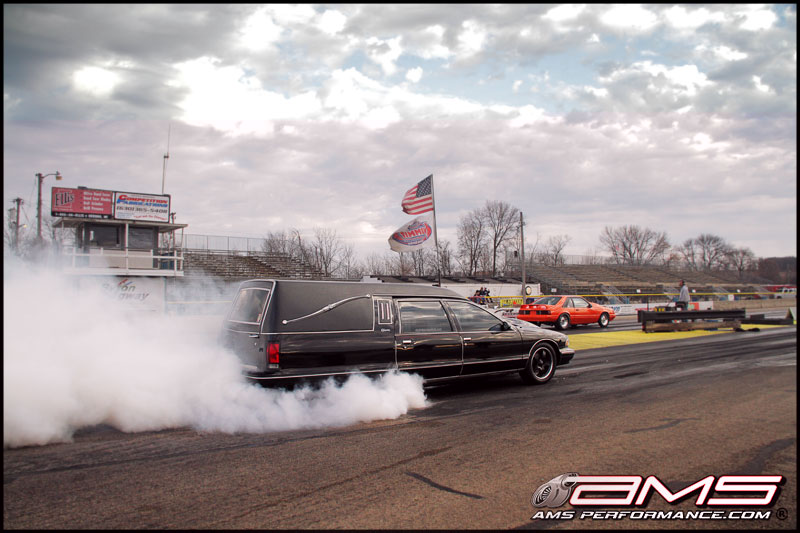 With the Hearse finally up and running we had little time to spare to get in some testing.  Chris Black whipped up a last minute tune on 93 octane the night before he left on a tuning trip in Hawaii and just days before our first track testing date.  The car made 510whp on our Mustang Dyno with 93 octane on 14 psi through an open converter.  Since I only wanted to do some shakedown passes I figured we could leave the power at that level.
Thankfully we lucked out with some mild November weather with temperatures around 50 degrees for Madness' maiden voyage down the quarter mile at Byron Dragway.  For my first pass I just wanted to make sure the car tracked straight so I eased it out of the hole and ran the car down the track for a shakedown pass.  The car felt really solid, and I was blown away that I ran 11.7 on my first pass.  This was just .1 off the world record set by the "Stiff Shifter" Hearse in Tasmania, Australia and it was just my first pass!
For my second pass we set the 2-step to a mild 3200 rpm for the launch.  An 11.5 pass at 116mph resulted with "Madness" claiming a new world record!  We made a couple more 11.5 passes while playing with the launch control that day before rain ended our outing.  I was so happy with the cars performance.  It's not often you spend a few years on and off building a car and everything goes off without a hitch.
Beating a record by just a tenth of a second was not enough for me though.  Upon Chris Black's arrival from his multi-day tuning trip in Hawaii, I hit him up for a race gas tune.  Being the great friend he is he made time to re-tune the Hearse on a E98/Shell URT Advance blend of fuel.  At 19psi we ended up with 610whp on our Mustang Dyno with an unlocked converter.
Another mild weekend allowed us one last chance to get some better numbers for 2012.  This time we hit Great Lakes Dragaway.  The track temps/conditions on our 2nd outing with more power had us working hard for traction. We ended up lowering the 2 step from 3800 (used the weekend prior) to 3000rpm to achieve our best and record setting 10.7 @ 127 pass!!
We are pretty confident with a good track we could have seen at least a tenth or maybe two better in its current configuration.  This was a long project and it really made all of us here so happy to see it run so well without a single hiccup.
Click HERE for detailed specs on the AMS "Madness" Hearse
Click HERE for Downloadable HD Version of this video.
Click HERE to read more about the full build of The AMS "MADNESS" Hearse
So what's coming up for the 2013 season?
We will be out at the Wannagofast ½ event in June to stretch the legs on the new setup and see how far we can push the stock LQ4 long block.
Stay tuned for further updates!