Last week we took 311RS #01 to Monticello Motor Club for it's maiden voyage on track. This was our first track time in a production unit, big day for 311RS! We've been tweaking, dialing, and fine tuning the setup for these cars since late 2011. After a 60,000 mile development period with our #00 prototype to satisfy our requirements, we've gone ahead and built a production unit to further prove the concept. #01 features most of the final production details and it has a good amount of the options we offer, making it a nice showcase for our program as we push towards full 11 unit production this October.

We were invited to run 311RS #01 at Monticello Motor Club in NY after meeting the track owner in NYC earlier this spring, awesome guy thanks!! The track is set in gorgeous NY state, which lucky for us, happens to be relatively close to the owner of #01's home base. They've done a great job creating a fun and complex track that still flows well. It's demanding braking zones and it's challenging corners were perfect for our shakedown test.

We arrived to a moist track… It wasn't quite wet but just slippery enough to upset the car. As much fun as sliding cars on a slippery track can be, this trip was all about getting down to business. Thankfully the storms came and went early in the day allowing us to get plenty of dry track time over the next two days.

We took advantage of the poor track conditions and took the car out for some initial shakedown laps. The car had less than 500 miles on it at this point so it was important we ensure the car was running smoothly. After our 500 mile break-in period its on!!

Bryan Hise from JRZ Suspension made the trip to MMC to help us fully dial in the chassis. #01 features a set of super trick 311RS-spec JRZ 12 31 Motorsport 3-way adjustable dampers that outshine even the dampers on my T/A car, which is completely unfair by the way! More on these later. A quick check of tire pressures and it's time for some more initial shakedown laps.

This being a our first production unit, there were setup tweaks and different component combinations to be tested. Our main focus was on the suspension setup but we also had a brake pad trial on deck.

WGirodisc has been our braking supplier since 2006 when we were developing Evo IX components. Martin Meade, who happens to be an ex-Porsche Motorsport engineer that worked on the Carrera GT before launching Girodisc, has been instrumental in our efforts over the years. With the the 311RS project it wasn't any different, Girodisc stepped up to the plate when we approached them with the idea of 311RS. The goals for the program were simple – Street car manners with track car capability.

We knew the basic package straight away – lightweight two-piece rotors (F/R), pads, Ti shields, SS lines, and Castrol SRF brake fluid. The problem was…which pads do we use? I'm serious about brakes. They're really important!! Typically street pads fail under true track abuse and track pads are NEVER fun on the street. So we set out to create a pad specifically for the 311RS – a true combination street and track brake pad. 311RS #00 was the guinea pig and we took full advantage of the mileage requirements. After testing three different compounds, we agreed upon a final compound that suited our needs. Unlike most street pads that become overwhelmed on track and unlike most track pads that have difficulty operating at the lower temperatures of street driving, the 311RS brake pads offer maximum clamping force over a wide range of driving conditions without the noise or rotor wear typically associated with racing pads. Girodics nailed it. Each 311RS Evo X is delivered with Girodisc's SS pads (pictured) installed for break-in purposes. A quick swap and we were ready to bed-in the 311RS brake pads.

Before bedding in the pads, we took the opportunity to look over each component. The wheels and tires had only delivery miles on them so we weren't expecting too much issue with them, but it's worth a look for nails and any potential irregularities since these are street cars. All was well. One note on the tires – with #00 we tested a 285/35/18 Nitto NT05 since it fits closer to the tires on my T/A car, the old faithful 275/25/18 Nitto NT01. They were great, nice and beefy, however they required way too much work to fit properly. For production 311RS units, we decided the 275/35/18 NT05 would be a better option as they fit our trusty 18×10.5 +18 Volk Ce28Ns well and allow for much more fender clearance.

A once over of the suspension components and we're off. I personally installed each component on #01 so I was especially curious to see if we would find any issues. Thankfully everything checked out and we were finally ready for some track time.

Sike! Fresh down pours just before lunch.

The rain did allow for some detail shots. Our base aero package still makes me smile. It's subtle yet aggressive, and most importantly the front and rear elements work very well together for a balanced aero setup.

During lunch the we took a few minutes to install our freshly delivered custom Schroth harnesses. The standard yellow Schroth patches were naturally out of place in our 60s & 70s inspired interior. However, that wasn't an issue thanks to a night of beer and my sketch book. I drew up a patch design that featured "puffs" to add depth. The harnesses were sent to our interior team along with the sketch for completion. Harnesses without a proper mounting place are an absolute no go, so that's where the Fall-Line for 311RS bolt-in roll bar comes into play.

A friend of ours, Ilia from IND, recommended Fall-Line Motorsports for our roll bar project. I approached them with the idea of creating a bolt-in roll bar solution for the Evo X. Fall-Line was great, they took the reigns and moved forward with the process immediately. My guidelines were simple – a technically sound bolt-in roll bar (w/harness bar) that doesn't require modification(s) to the interior while weighing less than the other roll bars available for the Evo X. Not only did they check all of the boxes, they went above and beyond with execution. Thing is a piece of art. Especially when painted 311RS Blue.

It can be removed in 15 minutes, and reinstalling it takes just over an hour. No need to remove the seats unless of course you want to. 311RS #01 is a street car first and foremost so the seats aren't leaving this car.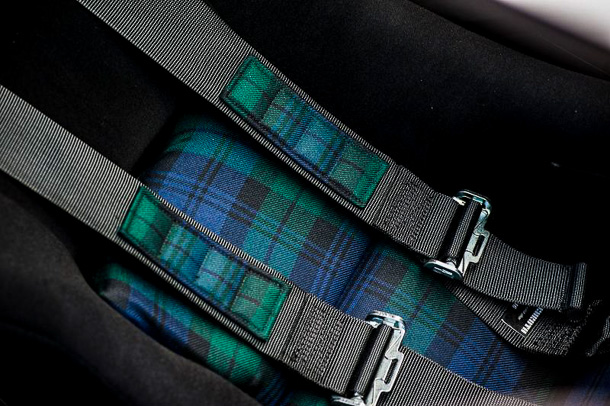 Here's a closer look at the harnesses we made for these cars. If you tick the box for the Fall-Line for 311RS roll bar these puppies are included. They aren't available otherwise, we just can't allow them to be installed improperly. I love how the puffs give them that extra pop.

Finally, track time. This was moment was pretty surreal for me, I remember it well. I stopped at the green flag on pit lane and though to myself, "We're about to embark on our first laps in vein with our first production unit. Big moment in the history of 311RS." I'm typically not that guy but this moment was the start of something we've been working on for 5 years and would hopefully be a sign of things to come.

Alright, enough reflection. It's time to rage on track!

Thing ripps. Out of the box the suspension setup was very close and the car was fun as hell. Bryan and I were both happy with our base suspension settings and we knew things would only improve from there.

The first session in 311RS #01 was unreal. I'll probably remember that session forever. With Evos being what they are, proper cooling after a hard session on track is key. #01 makes 400whp/360tq on AMS' Dynojet on 93oct which is where we ran the car for the first session.

Each 311RS Evo X is equipped with the JRZ RS1 as standard. These dampers are based directly off the what we learned from the suspension on my T/A car and refined with what we've learned on #00. That being said, #01 features a different damper setup all together. I mentioned the 311RS-spec JRZ 12 31s earlier in the post and they're really unfair. They're also based off my T/A, but these new dampers feature JRZ's latest and greatest 3-way adjustment complete with a huge dynamic range. We don't run heavy spring rates in our cars, I prefer compliance, so #01 runs 600F/800R springs (my T/A is on 700F/900R). This being a street car first and foremost we were focused on ride quality from the start. With the increased dynamic range built in to the dampers they are quickly transformed from track monsters to street gliders and vise versa. They're super smooth, plush even. You feel what you want and they don't jar the occupants..they actually absorb bumps! Crazy.. Both remote reservoirs are mounted to the Cusco strut brace for easy adjustment complete with heat shields to protect them from the 4B11T's massive heat.

#01 had a some time to cool, we adjusted the suspension accordingly, now it was time to turn it up. Our VP MS109e track map was uploaded and filled the car with with some fresh VP fuel. On the track map, Chris from AMS tuned the car to 440whp/370tq for a nice safe ripper track map.

This guy would always ask how much later I could brake into Turn 4, like he was testing me. It's a gnarly downhill decreasing radius left hander. So I told him I would show him.

After a warm up lap I blasted into the corner to test the car. For being on true street tires (Nitto NT05) we were really happy with how it performed in this tricky section. Downhill braking, a decreasing radius design with a bump on apex, that's a recipe for some nice understeer.

Bryan and I worked throughout the day on the chassis setup. #01 was dialed in with three progressively dynamic suspension setups. In theory, the owner of #01 can adjust his car as he builds his confidence level over the course of time.

Speaking of the owner, we definitely owed him some track time at this point… We set him up with our Phase One chassis settings for the first session. Phase One allows for a safe chassis that will progressively understeer at the limit. He's been on track in plenty of cars so we didn't have much to worry about, he wasn't a bozo out there. His intent when purchasing 311RS #01 was to make it "his" car. The goal was for him to understand every inch of the thing, make the right suspension adjustments and understand the process of setting up a car for the track (psi, alignment, ride height, etc.). His first words when we got out of the car? "I f***ing love my car!" That's what you want, mission accomplished.
After each session on track I always wipe down the wheels, without fail. I get made fun of a lot. It's something I've been doing after every session/race since 2008 when I transitioned to cars. There's a method to the madness though… If I had more important things to attend to I wouldn't have time to clean the wheels. So I look at it as a good thing. Also, a clean car always looks better in photos.
More sessions throughout the day…

Meant more cleaning of the wheels.
We made a huge push the final session to see just how quick the car actually was. Phase 3 chassis setup, race map, pressure checked NT05s, etc. We ended up posting one of the fastest times recorded for a car on true street tires at MMC – 2:28.4. The car weighs 3,325 and has a full interior so it's a legitimate street car on street tires (not R-Comps). A Viper ACR-X ran a 2:26 I believe, so we were running a good pace and I was satisfied.
So there it is, 311RS #01 after it's first few days on track. It took the beating like a champ and the owner was proud of his purchase. We were not only relieved that everything went well, but also taken back by the experience. We had no idea it would feel this rewarding. Seeing how happy the owner was and to be proud of the car for functioning properly felt great.
It felt as though the car came alive during these few days. It's full of character!! The etnies E-Suede and Tartan fabric transform the interior, not only the look and feel, but also the scent. It smells "premium" (if that makes sense at all). After #01's initiation on track all of us felt closer to the car, as if it had became our friend. Hearing it, smelling it, driving it, everything came together really well.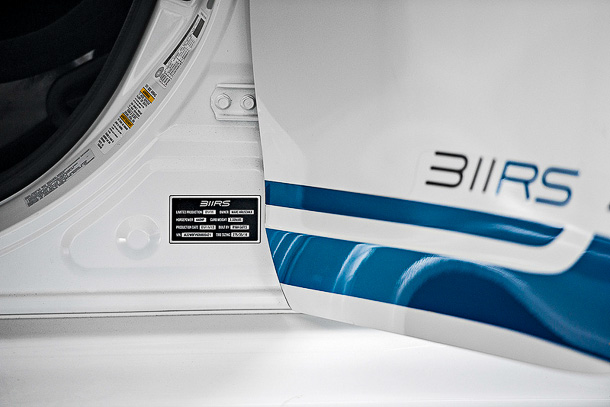 Each of these 11 cars will be unique. Each will have their own goals and in turn will have different stories to tell. We're looking forward to production this fall and meeting all of the great people who will become part of the 311RS family. Our goal is to host a track day for all 11 owners after we've completed production. The thought of seeing all eleven (11) 311RS Evo Xs on track together is too much to pass up!!
It's been a long journey filled with plenty of hurdles but I'm glad we've pushed through and making this program a reality. It will be fun to see it play out over the next few months and into the future.