AMS is celebrating PorschePalooza! All September long we will be featuring our full line of Porsche performance products. Stay tuned into our social media for more information.
991.2 Carrera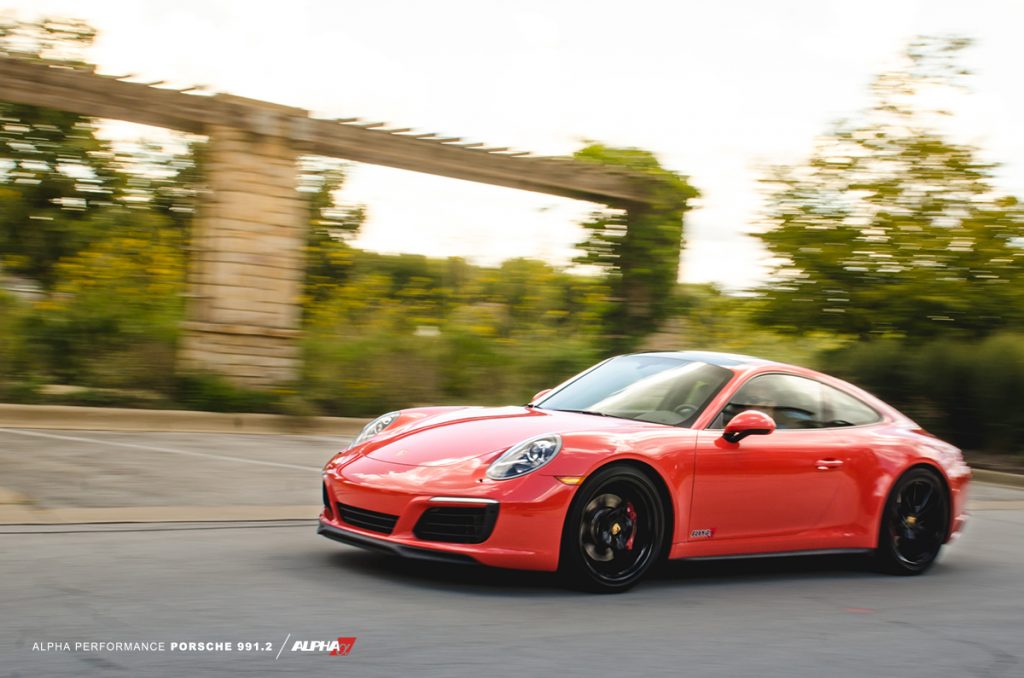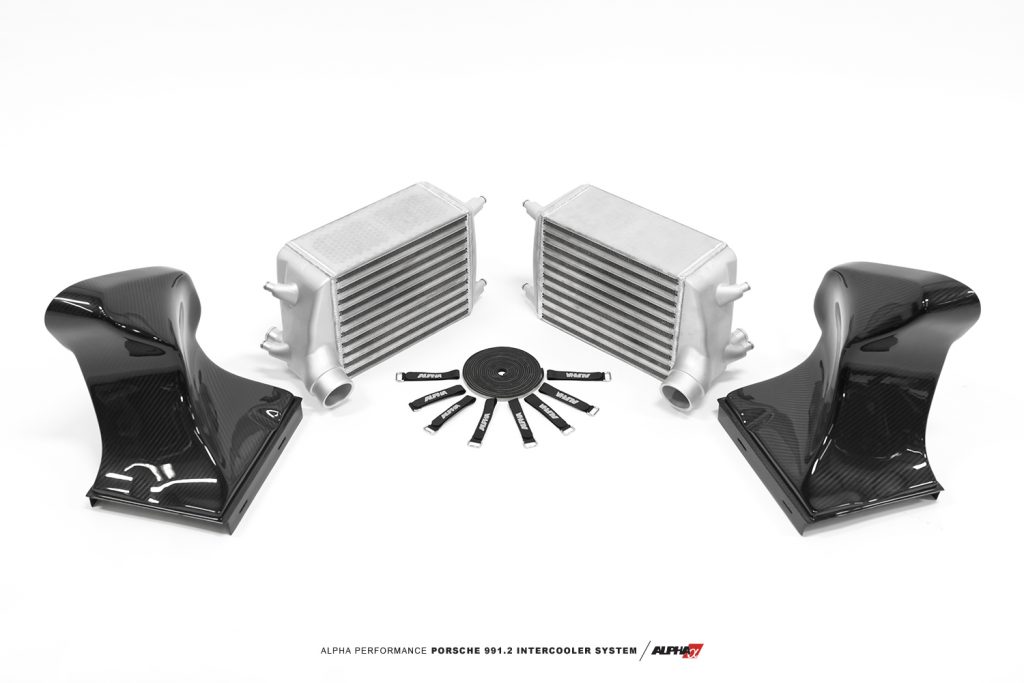 Introducing the Alpha Performance Porsche 991.2 Carrera Intercooler System
AMS developed the
Alpha Performance Porsche 991.2 Intercooler System
to provide you the best cooling upgrade for your Porsche 991.2 Carrera. In bringing these intercoolers to market our goal was to provide the ultimate system in terms of quality, simplicity, fitment, aesthetic design, and performance.
The Highest Quality Garrett© Intercoolers For Your Porsche 991.2
The Alpha 991.2 Intercooler System utilizes Garrett Intercooler cores that are 50% thicker than OEM! Alpha's massive cores give you the most power producing intercooler upgrade on the market by way of significantly cooling the charged air flow. Each of the two super thick 120mm Garrett© cores provide an optimum fin density of 20 fins per inch for unmatched cooling.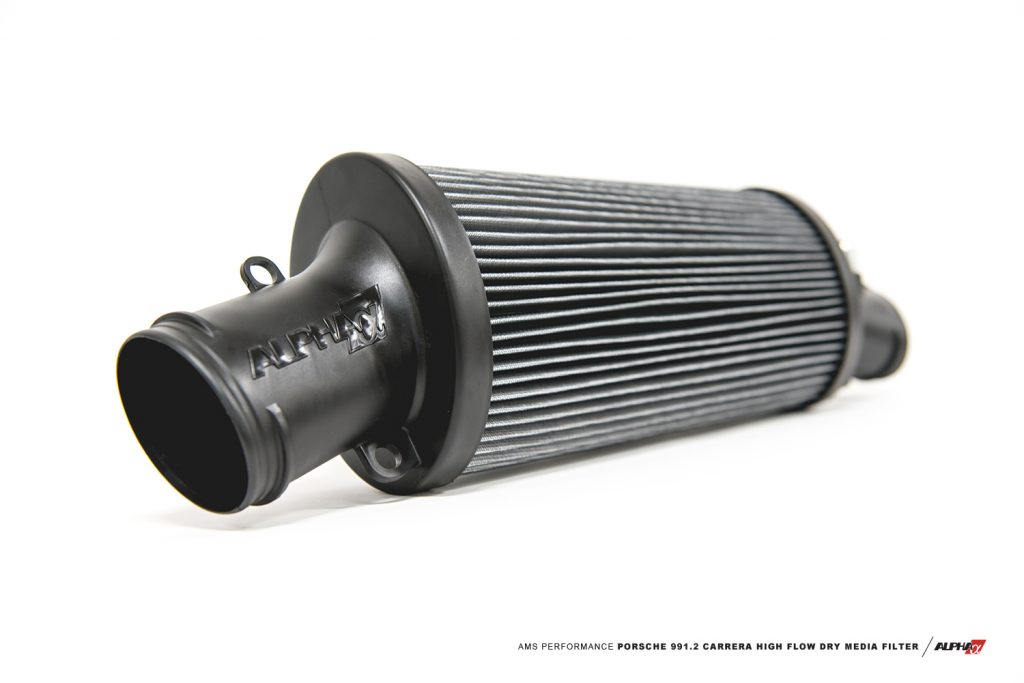 The Alpha 991.2 Dry Media Filters
The AMS Engineers designed our 991.2 high flow dry media filter to provide the optimum air flow. The filter is an amazing 6.875 square feet of high flow filter material. Our filter features 55 pleats that are 15.5″ wide and at a depth of .75″ giving it the optimal structure for the best balance of flow and filtration.
Maximum Airflow For Maximum Horsepower And Torque
Perhaps the best feature about this high flow dry media filter is that it improves the effectiveness of your future Alpha Performance upgrades giving you maximum hp output potential. Increasing airflow in and out of your engine will improve turbo spool characteristics and increase power output when tuned accordingly.
991.1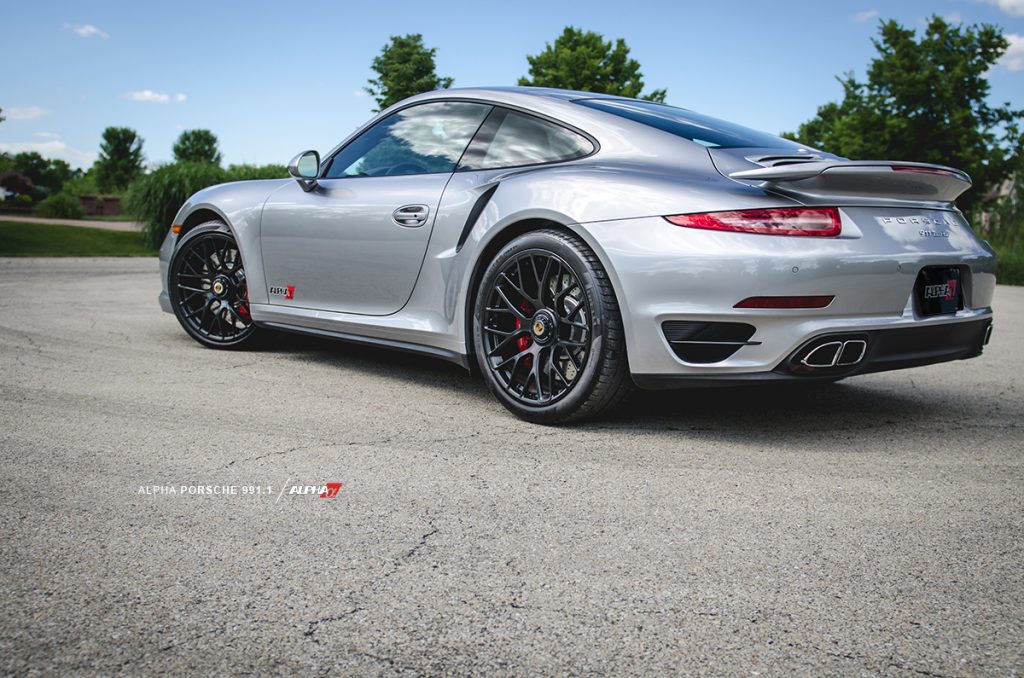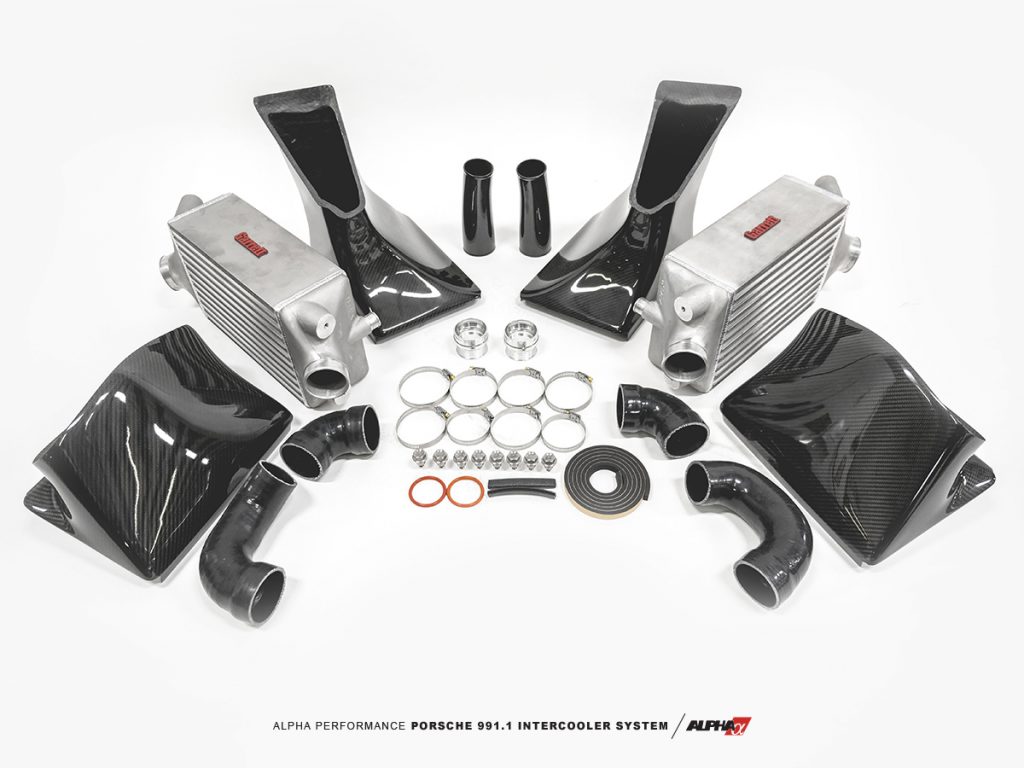 Cooler Intake Charge Boosts Power And Response
Channeling cool air to the intercoolers is vital for optimum performance of any intercooler. Some manufacturers choose to remove the factory intercooler inlets in order to cut costs. This greatly reduces the effectiveness of ANY intercooler whether it's larger or not. Others require that you cut up and tape the factory shrouding to the intercooler core in an attempt to seal the shroud to the intercooler core. While this is better than removing the shroud, it is still not the most effective way to boost performance.
The Alpha 991.1 Intercooler System retains full use of the stock intercooler inlets (located in front of each rear wheel) forcing cool air into our larger, carbon fiber shrouds. Not only is this option more aesthetically pleasing, each rigid, OEM-quality, carbon fiber piece is made to seamlessly mate to that Alpha Intercoolers feeding them cooler ambient air more efficiently than the other alternatives. Not to mention eliminating the removal or destruction of your intercooler ducting.
Porsche Macan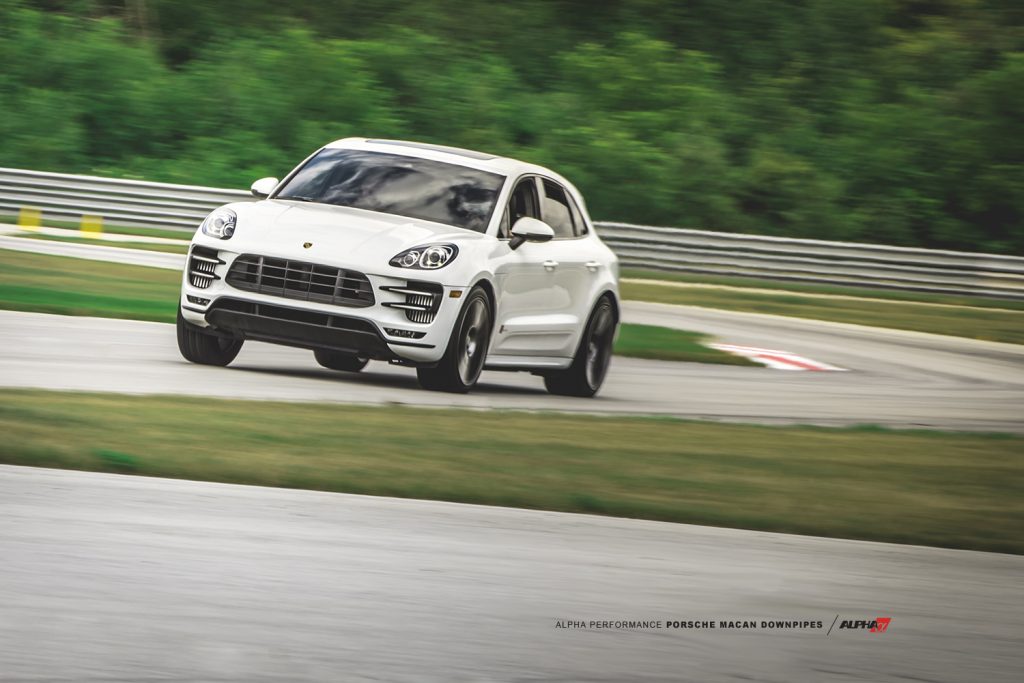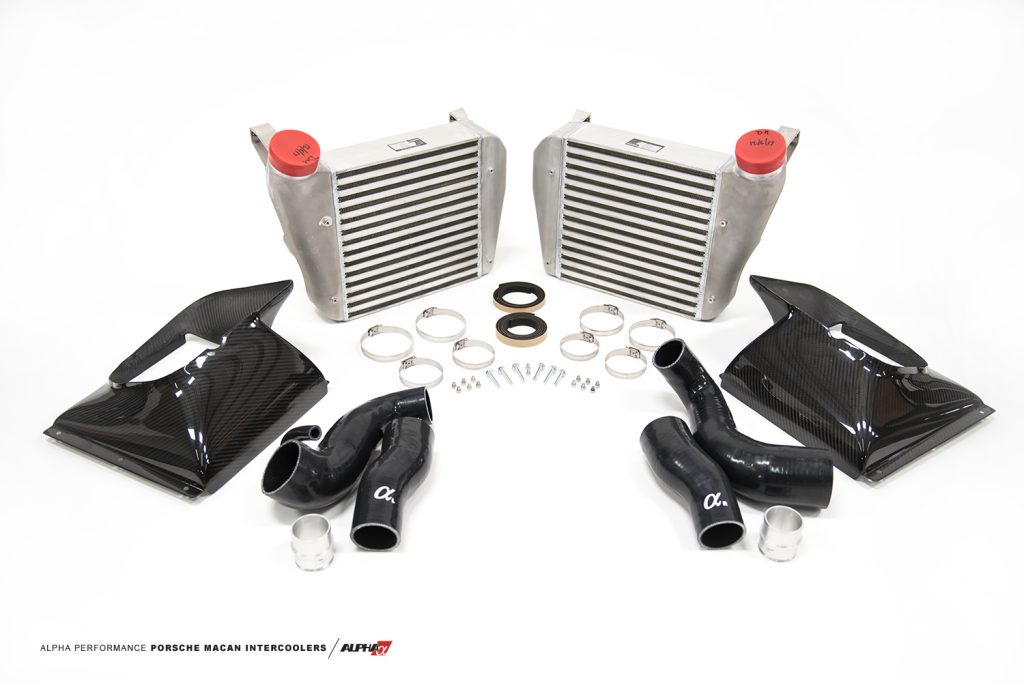 Alpha Porsche Macan Intercoolers
The
Alpha Macan Intercooler System
features the highest quality Bar and Plate Garrett Intercooler cores which are a full 
43% thicker than OEM!
 Alpha's massive cores give you the most power supporting intercooler upgrade on the market. Each of the two super thick 85.5mm Garrett© cores provide an optimum fin density of 20 fins per inch for unmatched cooling.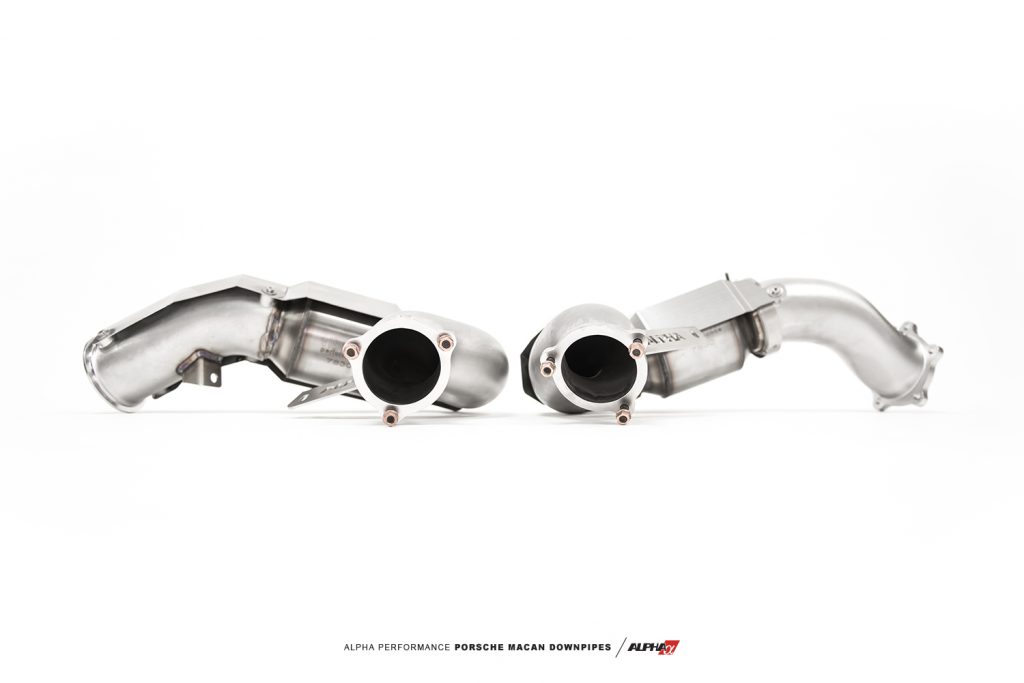 Alpha Porsche Macan Downpipes
The Porsche Macan's two factory downpipes are extremely restrictive. Our Engineers designed the Alpha Performance Porsche Macan Turbo Downpipes to expel the large amount of air our Alpha filters were now bringing in. They utilized the powerful Solidworks Software program to design less restrictive transitions for the hot exhaust gasses. The creation of smoother organic transitions allows exhaust gases to flow more efficiently which lets your turbos spool quicker, delivering power, faster. Our Alpha Downpipes' over 76mm diameter is 44% more area than the stock 63.5mm stock downpipes. With the end user in mind our Engineers designed the downpipes to bolt to OEM location with no cutting, drilling, or 02 sensor wire extensions. The Alpha Downpipes also were designed with heat management in mind.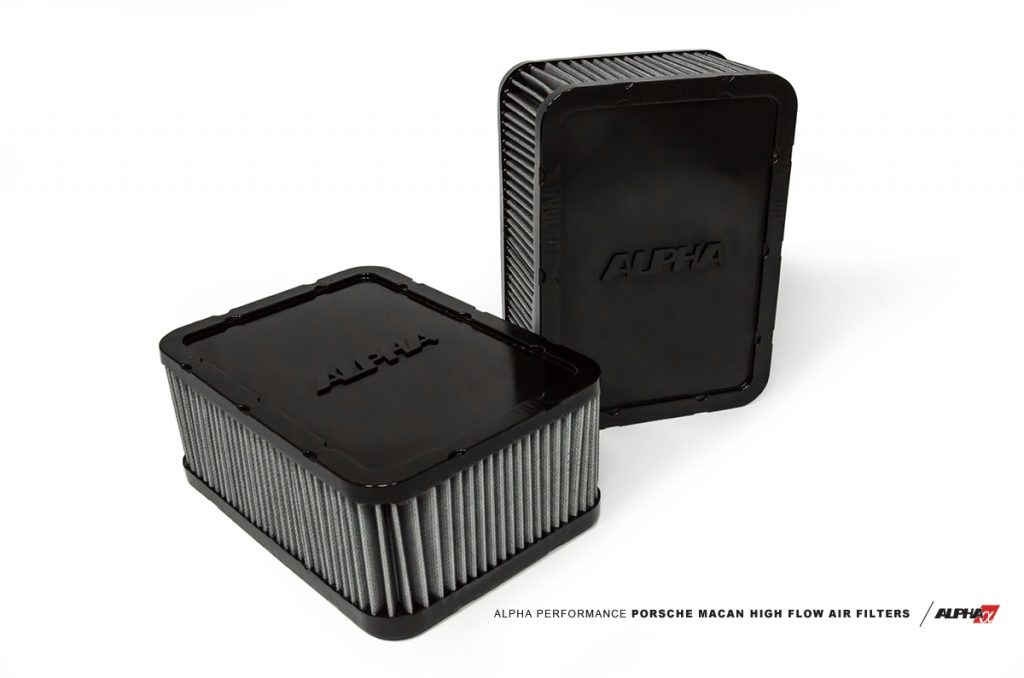 More Air In Equals More Horsepower Out
The new Alpha Performance Porsche Macan High-Flow Air Filters are exactly what your performance SUV needs to take deep breaths and produce more power! Simply dropping this filter into your Porsche's stock air box alone quickens throttle response and livens up the top of the powerband. This is the first in a long line of performance parts you can expect from Alpha for the Porsche Macan. The engineering behind our high-flow filters is what sets them apart.
The Latest in Filter Technology
Our Alpha Performance Filters are made with materials specifically designed for automotive applications. They consist of a synthetic non-woven multi-layer structure. The filter does NOT use oil or chemicals of any kind to aid filtration and will not degrade over time with exposure to varying temperatures and humidity like similar cotton based filters. This creates consistent performance between cleanings over the lifetime of the filter. The filter is easily cleaned by blowing compressed air across the media from the inside out to blow off residual dirt and dust.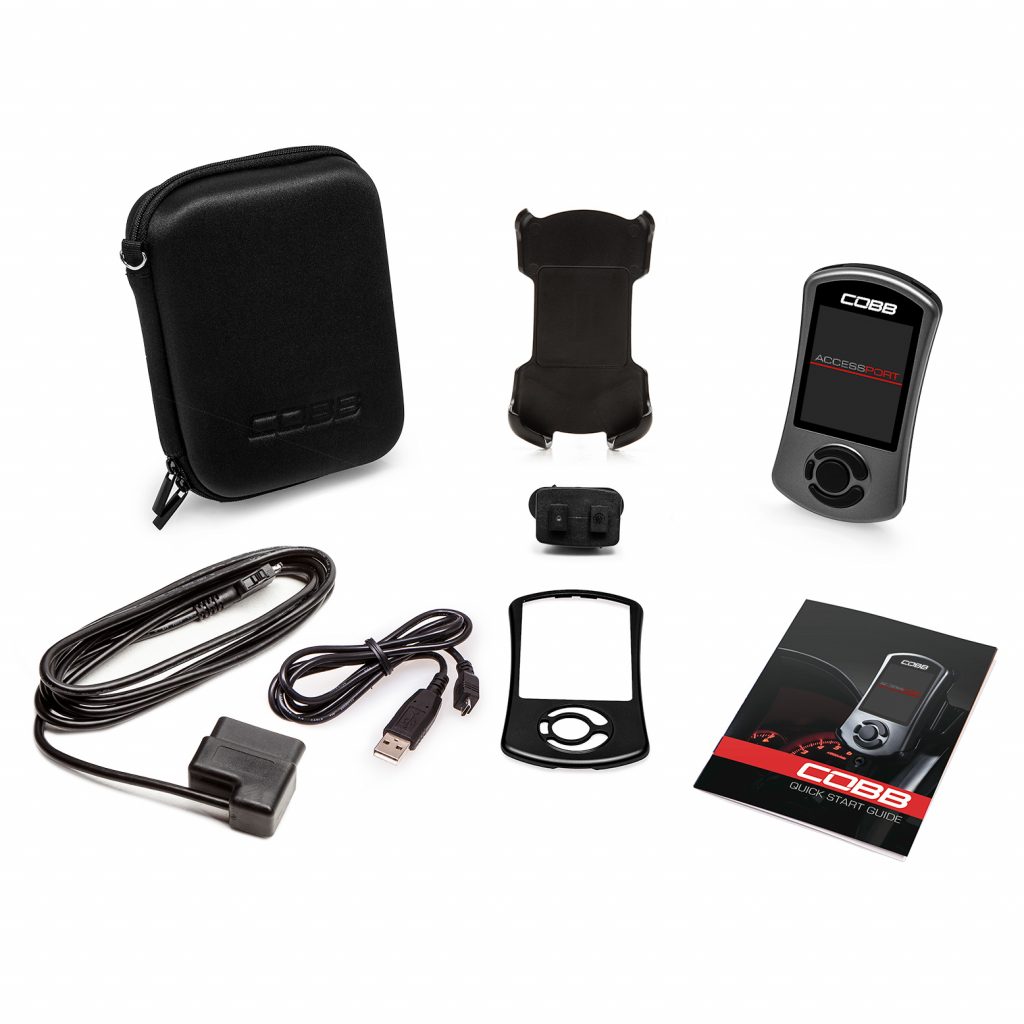 Porsche Macan Cobb Accessport
The Porsche Macan Accessport V3 is the world's best selling, most flexible ECU upgrade solution for Porsche. Unlock power hidden within the vehicle by replacing conservative factory settings with more aggressive calibrations. Upgrade forever with off-the-shelf (OTS) calibrations for most bolt-on modifications. It's the last engine management solution you'll ever need.