"8.64 seconds @ 161mph" That is what the clock read on TX2K's board as Sam Barros of Nostrum Energy crossed the line in his Omega 12 R35 GTR setting the record for that kit. The Omega 12 has made huge waves in the GTR community since we introduced it late last year. It's true "stock like spool" characteristics and nearly 1200 HP are unmatched in the industry. Sam was the second customer to have the kit installed and since then we have had a hard time keeping up with demand. Word of mouth and results like Sam's have really been the driving force behind its popularity. You can even run this turbo kit on a completely stock engine and trans! But, instead of me telling you about the kit who better than Sam to give you his experience in his own words…
"AMS Performance's Omega 12 turbo kit is the real deal!
Sure, every single turbo kit out there claims "stock like spool". But come on, if you are making more power than stock, it is only because you have larger impellers, and larger impeller turbos take longer to spool up (for various reasons I won't bore you with here). And having tuned and driven at least a dozen different combos, I can tell you that big turbo cars just aren't for me. They're great for racing, but 99% of my driving happens on the street, there aren't too many places where I can use 1000+ hp, but the lag is something you feel every single time you push the gas pedal down. I moved on from laggy turbos the day I graduated college, got a job and sold my Subaru STI and I'm never going back to that again. Also, I really enjoy the occasional track day, and having a car that is slower than stock because it lags on corner exits would make me feel like I wasted my money in modifying it.
So when Martin from AMS told me he was working on a new turbo kit that should "Spool like stock" and "make about 1100WHP on E85", I was equal parts interested and skeptical.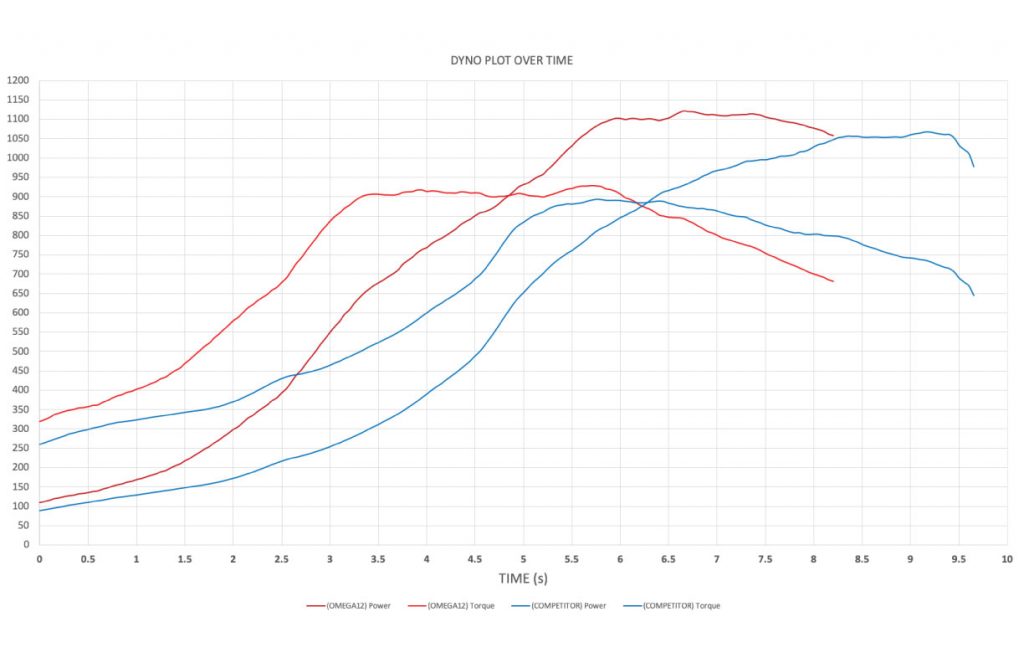 Well, sure enough they do! At AMS's dyno, on the fourth pull I was already taking boost out of the mid-range because the car was making 844ft-lbs torque at the wheels which was more than I wanted on pump gas. I called it good at 988whp/800tq which I later on dialed down to ~900 wheel by taking some boost out for safety and running a very conservative 13 degrees of ignition timing at redline, since this was just on straight up 93 octane pump gasoline. Oh, also this car has catalytic converters and a full exhaust with mufflers and resonators!
Two days later I put some E85 in the tank, and hit 1100WHP / 925ft-lbs torque, which was about what I wanted for a stock block / stock crank engine with just AMS forged internals and Alpha Cams. I went back on pump gas, added an injector controlled, individual cylinder water injection system we are in the final stages of developing, and matched those numbers on Gasoline + Water too, so if I'm somewhere where Ethanol isn't available, I can still make full power.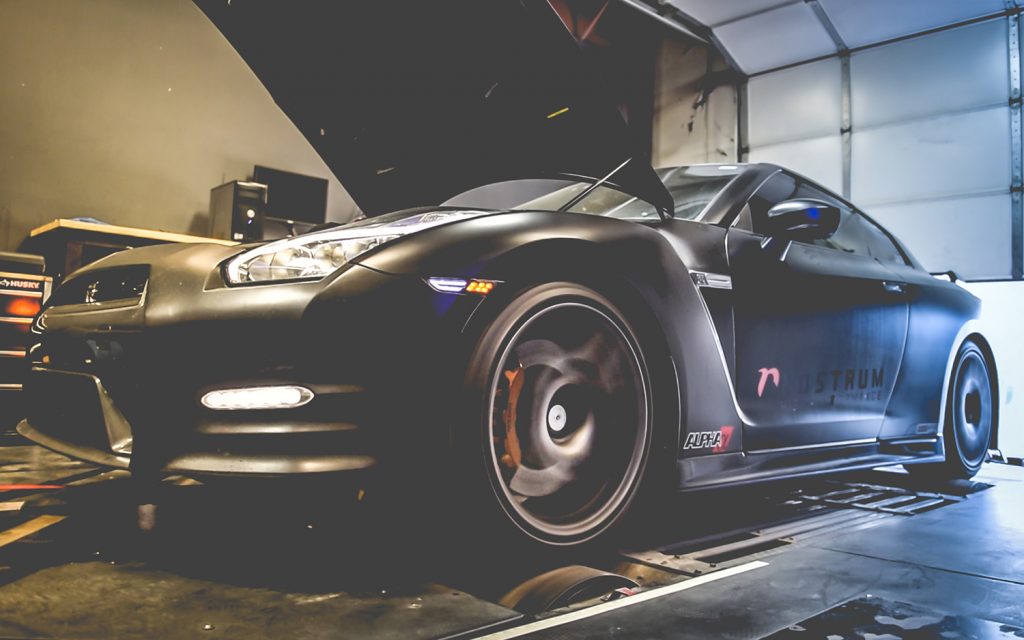 Way more impressive than the peak power numbers though, is the fact that starting a run at 2000RPM in 4th gear, the car will hit 500ft-lbs torque at the wheels by 2750RPM, and 800ft-lbs before 3500! I have never seen a turbo kit spool this fast, and that includes the extremely high tech Borg Warner EFR 6758s I was running before; the previous fastest spooling turbos on the market; the Omega 12s blow them completely out of the water, outspooling them by 500-600RPM!  Compared to any other turbo I have tuned that has similar power potential, you are looking at peak torque coming, on average, 1000+ RPM later!
On the street the turbos are absolutely fantastic: instant spool the moment you give it any gas; if I'm not on a lower power map, I will frequently see 20 pounds of boost at part throttle in 6th just giving it some part throttle to pass traffic; the car feels like it lost 1000 lbs because of how responsive it is…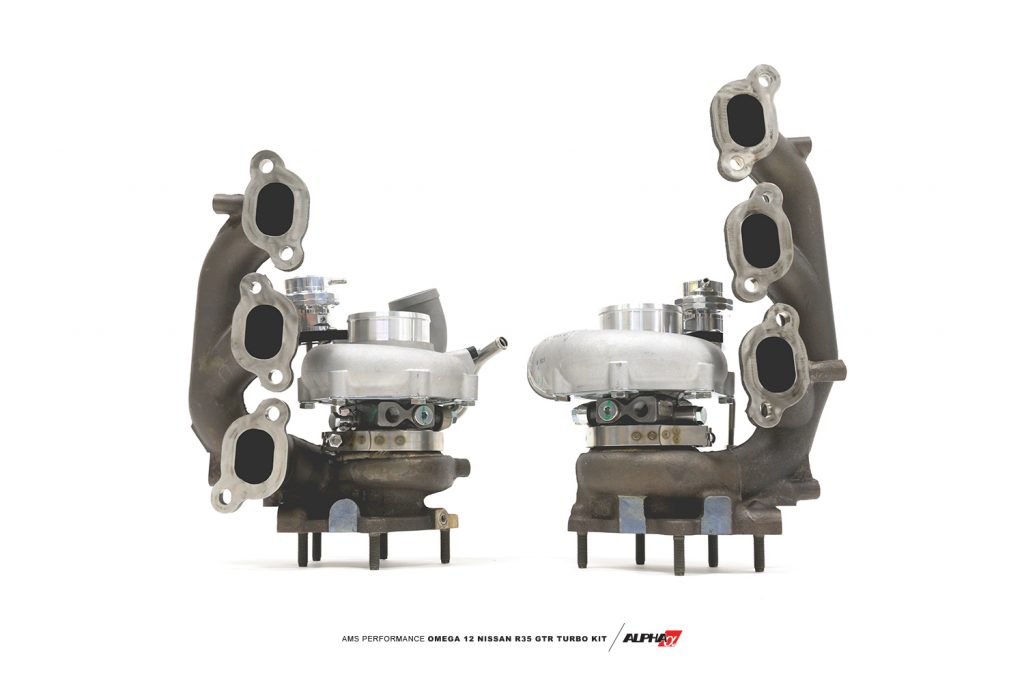 But of course dyno numbers are only a small part of the story! Encouraged by what I saw in tuning, I decided to enter my GTR at the TX2K race this year. Now, bear in mind my car is no race car; I drive it to work every day, and my favorite thing to do with it are long road rallies, like the Corsa Coast-To-Coast event that I participated in last year, so when I picked it up at AMS, it still had its snow tires on as I still drive it in winter. It is a full weight car, it has heavy mufflers to quiet the exhaust down, full factory interior and seats, and I even added Dynamat to the trunk to make quieter and more comfortable on long drives; the car weights just 5 pounds shy of 4000lbs with me in it. Running it on the 58mm turbo class with the Omega 12 turbos (which are 54mm), I was clearly outgunned by the competition, most of which are trailered in cars with a lot more effort devoted to making them fast on the drag strip than my simple tire and wheel change at the event. I figured TX2K would be a good place to show up, run a few passes, and then just watch the fast cars race. Boy was I wrong!
The car went 9.0 @ 154 on its first shakedown pass, leaving the transmission in automatic mode and shifting at 7300RPM. The next pass was an 8.9 @ 159MPH letting the engine spin all the way to 8000RPM between shifts. Then a little bit more boost off the line and it went 8.722 @ 161.5mph, resetting the current Omega 12 record.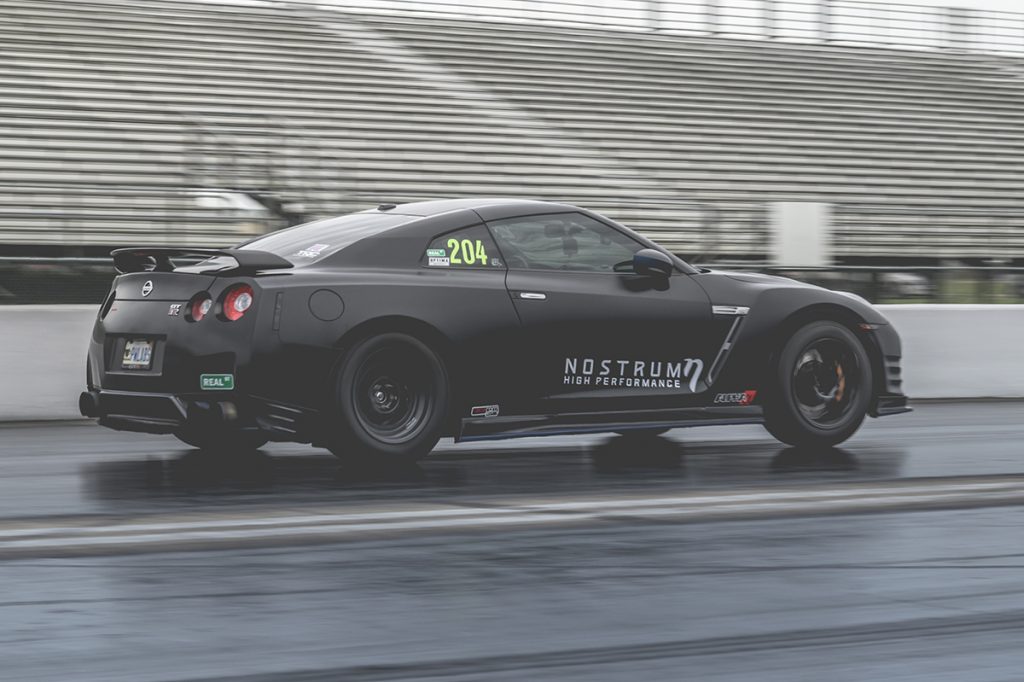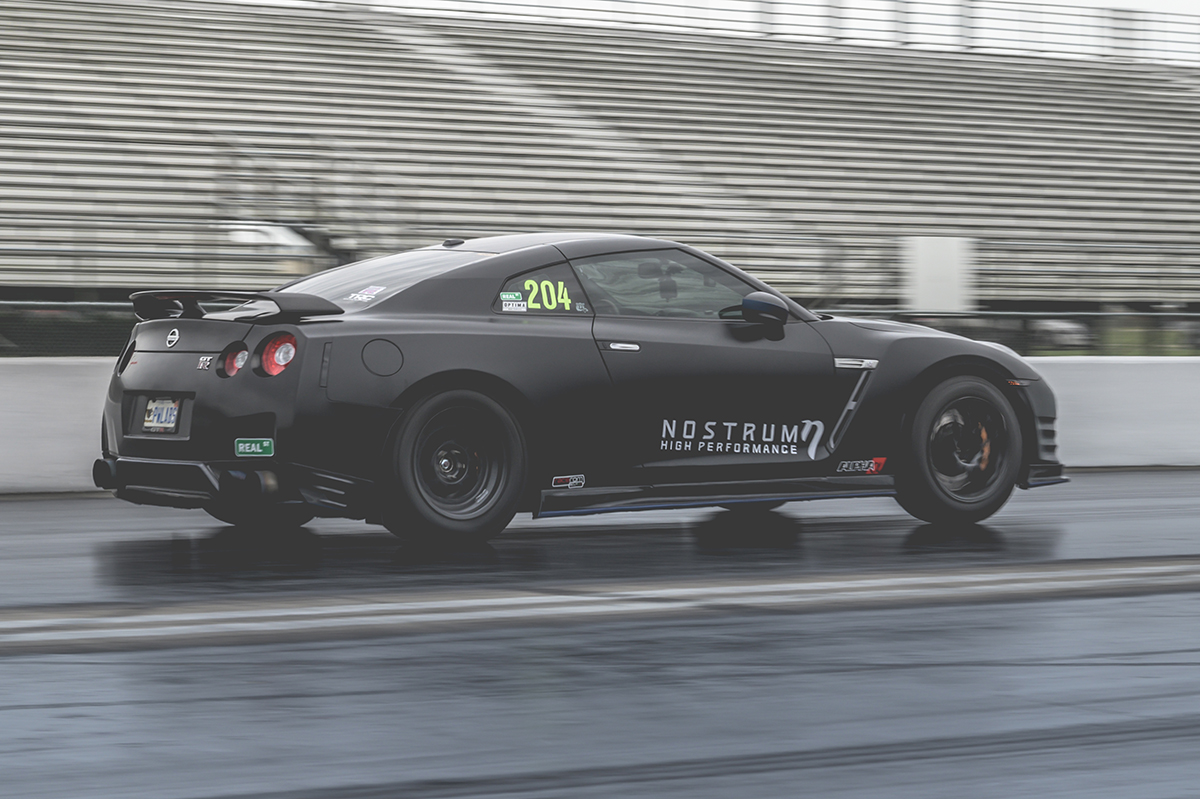 At 8pounds of boost off the line, and a 3800RPM launch, the car cut a 1.34 second 60 foot and ran its best pass of 8.64 seconds @ 161mph. At that point I had qualified 12th out of 24 cars and was in the race! I stopped changing the tune and just focused on running. By that point the car was absolutely brutal, pulling 1.8Gs of acceleration to 40 miles an hour, and doing the 0-60MPH sprint in about 1.8 seconds.
As luck would have it, I ended up making it all the way to the semi-finals in my class, something I would never have expected! But the best part was putting the street tires back on and driving the car off to dinner that night; nothing broke, and at the end of the race it was still the same quiet, comfortable, daily drivable car I wanted. Just with over 2X the factory power!
I don't think there is a single other turbo kit out there that can offer this level of drivability, enjoyment, and spool, while being able to make this much power, at any cost. I think with the Omega 12 kit AMS has hit the ball out of the park in creating the ultimate "Street Car."
I don't think there is a single other turbo kit out there that can offer this level of drivability, enjoyment, and spool, while being able to make this much power, at any cost. I think with the Omega 12 kit AMS has hit the ball out of the park in creating the ultimate "Street Car", and also road racing turbo that can do everything, from daily driving, to track events and even drag racing, if you don't mind the fact that you'll get kicked out of any NHRA event for going too fast without a rollcage and a parachute!" –Sam Barros, Omega 12 Owner and record holder
Can you get any better of an endorsement than that? The Omega 12 R35 GTR is the fastest spooling 1200 HP street car there is. If you want to learn more you can add your name to our R35 GTR mailing list below, call me at 847-709-0530, or email me at [email protected].