This past weekend we headed out to Cypress, CA to attend the Mitsubishi Owners Day. This is a neat event that Mitsubishi holds at their headquarters annually to give owners a day to bring their cars out, chat with vendors providing after-market goodies and – you may have guessed this – mingle and talk about fast cars. I was skeptical at first. The event itself sounded like a no brainer – a good time and great opportunity to meet people. But we're still catching up on sleep from Pikes Peak and a few short weeks ago Dave road-tripped from Denver to Chicago and back. Denver to Cypress is 16 hours. Ouch. This might be an appropriate time to remind people we don't race for a living – we both work full time. I'm happy to report we had a great time and it was worth the drive.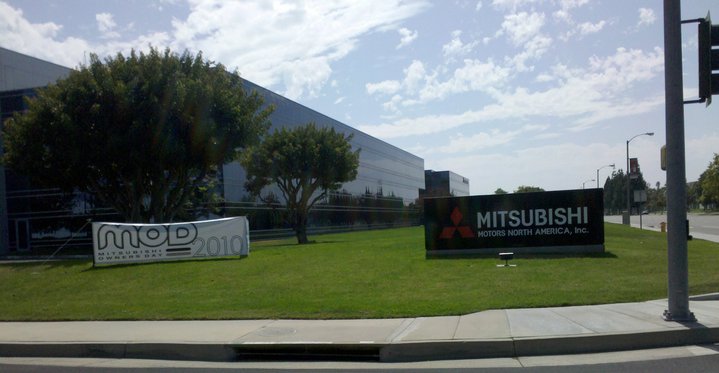 My sincerity in saying this starts with all the great Mitsu folks who came out to greet us when we arrived. Folks from PR, the Engineering Department and even the Evo Product Owner came out to the parking lot where we were getting the car prepped (fastening the Pikes Peak aero bits and getting her cleaned up) to say hello and check out our race car. You couldn't help being inspired by their enthusiasm for the Evo and their total delight in seeing it developed into a mean-looking, record holding, hill climb monster.
We took the advice of the locals and headed to Huntington Beach for a nice dinner Friday night. The restaurant served Guinness shakes, so Dave was happy. Saturday morning the show started at 9 am. We got the Evo situated next to the NOS Energy Drink booth and had the opportunity to meet some of the SoCal NOS folks. Great guys to spend the day with and hooked me up with all the sugar-free NOS I wanted! We mingled with the Evo enthusiasts and enjoyed a sunny California day with good food and fun prizes – the Mitsu guys put on a nice event for their owners. The organizers estimated 800 Evos were present and close to 1300 Mitsubishis in total … so ~500 split between 3000GTs, Eclipses, Galant VR-4s, and yep, even a few Starions!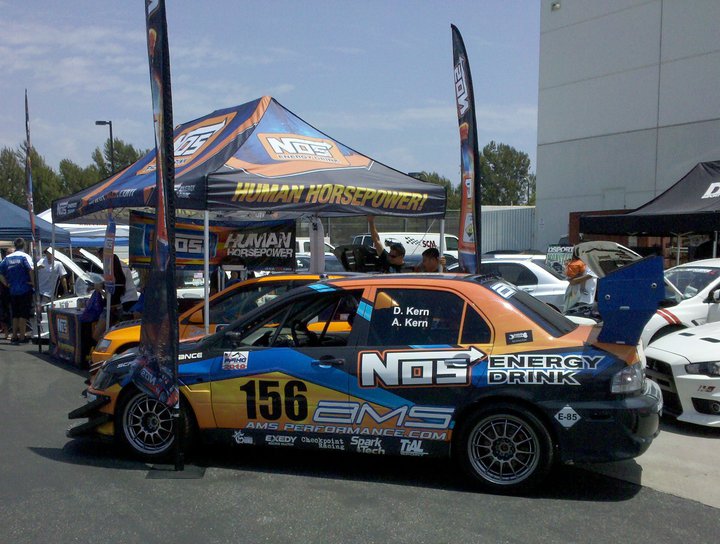 As soon as the event concluded at 2 pm we were loading the car up on the trailer (did I mention that pesky day job thing? LOL) The plan was to head to Vegas for the night – get a few hours knocked off the drive back and celebrate Dave's birthday. Sunday we were up bright and early for the last leg back to Denver. The turbo in our truck decided it was "boost disinclined" (blasphemy!) as we started climbing Vail pass, so that kind of sucked, but we got home safe. Dave "The Machine" Kern already swapped the fuel filter and did a tranny flush on the truck and we're good to go. Which is a good thing, since, believe it or not, we hit the road this Friday afternoon for the Monarch Hill climb. Wish us luck and more to come on that race next week.
Thanks for reading!
Allison (& Dave)