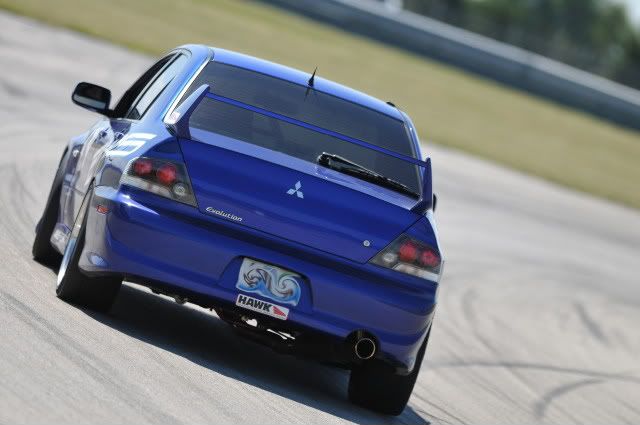 Saturday
Woke up to rain. Got to the track and finished unpacking and it was still raining for the warmup. Even though I was on Hoosiers, I decided to head out just to make updates were all installed correctly. I switched back to TTA mode, meaning I reinstalled my AMS FMIC, AMS LICP, AMS MBC and brand new upper intercooler pipe (finally dumping the stock UICP for good and all it's troubles staying attached I hoped). I ran just 2 laps of fun in the rain and literally slid through the last turn and into pit lane – but everything shook down just fine.
I went out in the first timed session, and planned to hammer it right away while the temps were still cool. It was a good plan, but I took it a step too far and blew through the first turn on my 2nd full lap. Just a scenic trip through the grass; no harm no foul other than a DQ for the session. Everything mostly felt good except the car liked to understeer out of some corners which seems to be a theme my last few events. It was bad enough in some turns that it was literally hopping while fighting for grip. If you check out the vids below you should be able to see this.
Anyways, in the final 3 sessions I put down faster and faster times and ended up with a 1:32.1 which snagged me first of 4 in class and broke the TTA class record.
In the last session I got a soft brake pedal so I figured my already this pads were shot. As soon as the session was over I tore into the brakes. I had put in an older replacement set to hopefully get me through the weekend; but they only lasted 1 day as they were down past the middle wear marker on the RF. Having a new set of DTC60's; I popped them in and rotated the tires to get ready for Sunday. I'm not a big fan of doing maintenance at the track, but this isn't a bad job and the temps weren't bad at all. Much better than how the day began with all the rain!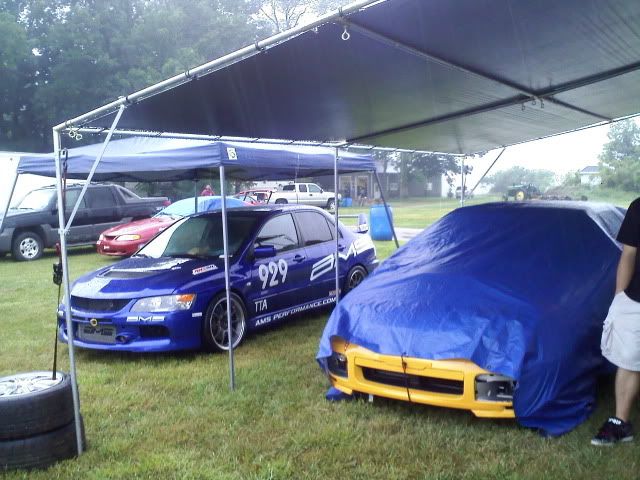 Here's some vid from Sat on the regular course. This is of an earlier session with some more lap traffic which I think makes things more entertaining:
Sunday
Sunday we got to run the new config which adds about a 1/3 mile to the track in the form of another carousel turn and a longer backstraight that starts uphill. It took a bit to get used to it as their's really 2 carousel turns and some off-camber downhill stuff – the longer straight…well it's straight! Carousel turns can be difficult to get a handle on, especially if your car doesn't handle well. I think mine handles pretty well, but it seems to be disliking corner exits more and more over the past month; understeering like I mentioned above. It's probably a combination of a few things including the fact my JIC coilovers have 35+ days on them now and likely need refreshed. I also have the camber plates maxed out up front which only nets me about -2.5 of camber. And lastly I've been running a higher class – TTA. Even though I'm not fully utilizing my points allotment yet, I am running more horsepower which in turn seems to make the corner exit understeer that much more pronounced.
Anyways, I dealt with it the best I could in the carousels and came away with a best of 1:40.6. This time I flip-flopped with a TTA Corvette from Sat and finished 2nd of 5.
Here's some vid from Sun on the new longer course. This is of my first hot session so my lines aren't the best in the new section. I moved the mic and the car just sounds loud now! Enjoy:

Old Course vs New Course:
Just to give you an idea of the changes and how they affect the Evo vs others:
1.8 miles vs 2.2 miles
Top speed on backstraight of 110mph vs 125mph
Anyone that's competitively tracked an Evo knows that we fall victim to straight-line speed to things like Corvettes! I think the longer backstraight definitely brought this sad fact into play with my finishing order. The longer straight combined with basically 2 additional carousel type turns made for a new course that doesn't seem to flow quite as well. Then again; based on my results over the weekend maybe I'm biased! haha.
All-in-All a good weekend. I had the 3rd fastest time of TT both days. The new Buschur UICP worked just freakin great – thanks guys. The AMS tuned performed very very well as always. Also thanks to AMSOIL, Hawk and Forgeline. My oil temps rose pretty high but I think that's because I re-routed my RF brake cooling duct and stole some of the airflow to the oil cooler; so I have that the fix before the next event. I also have some extra 'mod' pts to use in TTA to maximize the car. I've got a few ideas but not sure how fast I'll implement them…stay tuned!
Nathan Pitcher
__________________