Mercedes-Benz CLA/GLA/A 45 AMG, Progression is Only Natural
As Alpha Performance set out to explore performance parts for the Mercedes-Benz CLA/GLA/A 45 AMG series we put the full weight of our years of research experience behind the project. We discovered that our dedicated AMS Performance Mitsubishi Evolution owners and other customers were looking at the Mercedes-Benz A 45 AMG Series as the next step in their motoring journey. It made a lot of sense. The Evolution X was nearing the end of its lifespan. The A 45 AMG Series automobiles are turbo'd. They are All Wheel Drive, and are very exciting packages. The AMS staff realized that the A 45 Series AMG platform is basically a more refined Evolution X. This platform is a natural successor to our wildly successful Evolution line of performance products. As a result of all of these factors Alpha Performance launched head long into the evolution of the ultimate CLA/GLA/A 45 AMG!
Alpha Performance Mercedes-Benz CLA/GLA/A 45 AMG Series Products
When we sat down to discuss the performance of the CLA / GLA / A 45 Series we went back to a familiar starting point, engine performance. The first step in gaining any performance in an engine is to let it breathe. After all, your M133 engine is simply an air pump. So, we started with the intake. After the release of our Alpha Mercedes-Benz 45 Series AMG Performance Air Intakes and the fantastic response we received AMS' Snailworks© Engineers dedicated themselves to the development of an entire range of 45 Series performance parts. They wanted to create a complete system that would greatly improve the the performance of the CLA/GLA/A 45 AMG Series of vehicles! Paying full attention to detail, parts were designed using CAD and 3D printed to ensure proper fit. We chose our carbon fiber weave and finish to match the engine cover as well. Not only does our carbon fiber inlet & lid complement the looks of any Mercedes-Benz 45 Series AMG vehicle, the inlet does away with the stock, corrugated plastic design and thick support beam to improve air flow. The color of our Alpha logo was selected to match that of the "AMG" logo on the engine cover.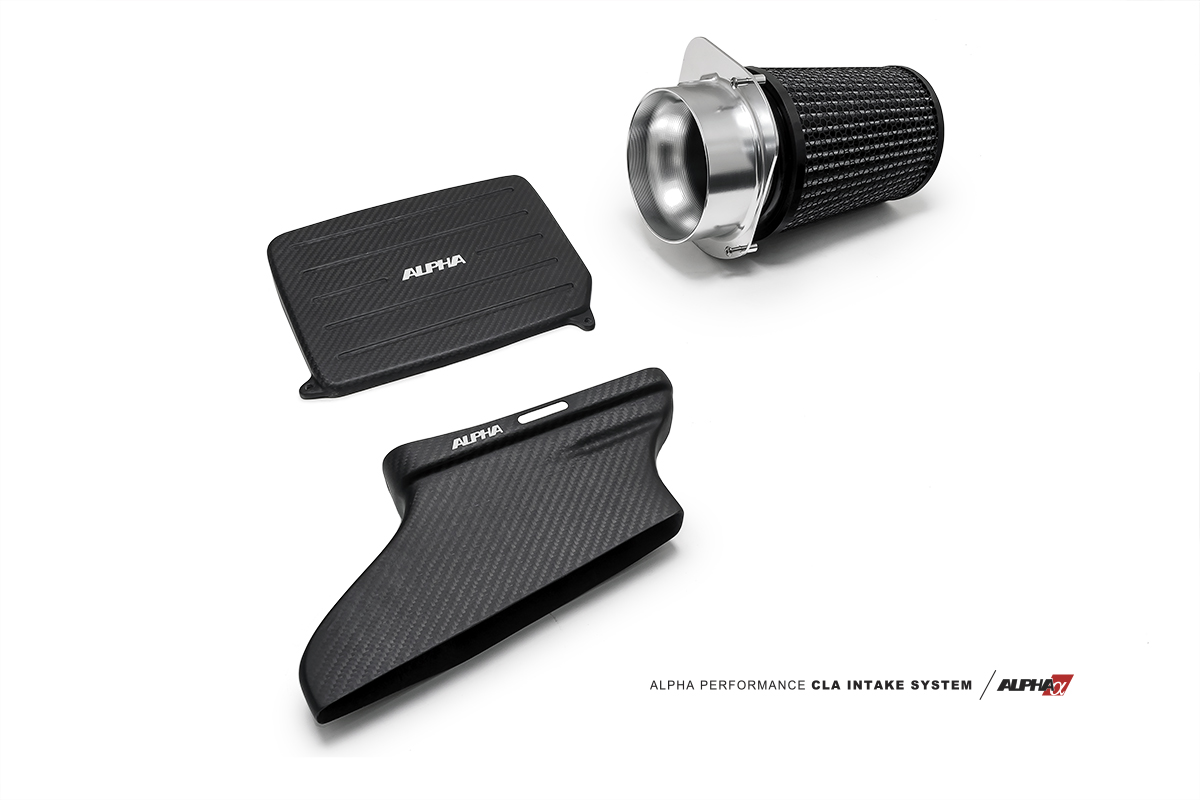 Cooling it Down
Our second goal was to create a cooler intake charge. The cooler the air the more oxygen it contains and as a result the more horsepower you can produce. Your 2.0L turbocharged engine does not use the typical air to air front mount intercooler (FMIC) you may be used to. Like many modern turbocharged European vehicles the A Series AMG uses coolant to cool the intake air charge through an air to water heat exchanger. While this method may be sufficient for a stock vehicle under ideal conditions, it can quickly become heat soaked robbing horsepower. Through testing, we found the factory Mercedes-Benz center heat exchanger restricts coolant flow. This restriction slows the flow of coolant though the air to water intercooler minimizing the cooling of your intake air. So, By doubling the thickness of the OEM core we gained an extraordinary amount of added cooling by increasing efficiency. The Alpha heat exchanger core and end tanks hold an astounding 222% (58oz vs 18oz) more coolant than the stock heat exchanger! That's close to a half gallon! You gain an increased thermal capacity over the entire intercooler system by accommodating the added coolant. The Alpha Engineering Team actually designed the core with 20 fins per inch rather than the factory 23 fins per inch. The lower fin density allows more airflow, and thus more heat transfer through the thicker core.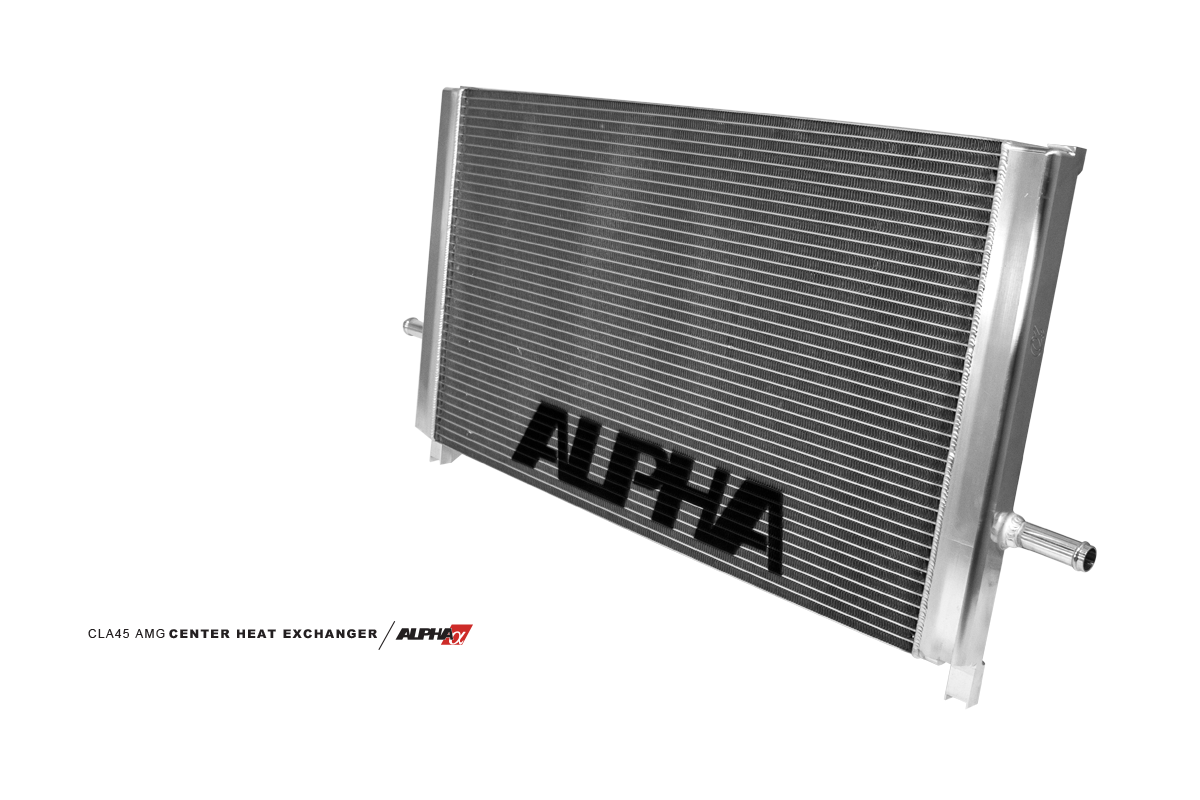 Get Even Cooler
If you desire the absolute most boost intercooling available we also offer the Alpha Auxiliary Heat Exchanger. This replaces the restrictive stock auxiliary piece and used in combination with the Alpha Performance Center Heat Exchanger the pair becomes the ultimate cooling for your CLA/GLA/A 45 AMG Series Mercedes-Benz! An upgrade to the factory heat exchanger in both overall size and efficiency, our upgrade offers better cooling of the intercooler system fluid. Being 38% larger than stock, our heat exchanger core provides additional liquid capacity for greater heat dissipation. This allows the system to maintain lower fluid temperatures throughout extended periods of high throttle operation. To improve flow and reduce pressure drop, our engineering team went a step further by tapering the inlet and outlet for smoother flow. All of this will result in cooler intake air charges and maximum power!

Getting the Air Out
The Alpha Mercedes-Benz CLA/GLA/A 45 AMG Catted or Race Cast Downpipes are simply the best performing and most durable on the market! During testing our shop CLA with our Alpha CLA 45 AMG Downpipe, Filter, and Alpha CLA Tune we saw amazing gains across the power band in both wheel horsepower and torque! The power came on earlier and carried over 100 ft lbs of torque gains from 2900rpm to 4850rpm!!! Turbo spool-up was significantly improved! The long gradual transitions within upper downpipe section allows exhaust gasses to maintain velocity without a buildup of back pressure inside of the system!
Tuning it Up
To maximize the performance of your new Alpha parts the final piece to the package is the Alpha Performance Tune! With its stout design, the Mercedes-Benz CLA/GLA/A 45 Series AMG
M133 engine
provides excellent entry level luxury class power. Mercedes-Benz rated the stock horsepower output of their 45 Series AMG at 401HP and 363ft/lbs. BUT, AMS found a way to tap into the hidden power of your A-Series AMG! An
Alpha Tune
 paired with the
Alpha Performance Downpipe
, 
Alpha A Series Carbon Fiber Intake System
,
Front Heat Exchanger
, and
Auxiliary Heat Exchanger
 will take full advantage of your AMG's untapped potential. By precisely adjusting camshaft timing, boost output and air/fuel ratios, your 2.0L turbo equipped AMG will produce an
astounding 454 horsepower!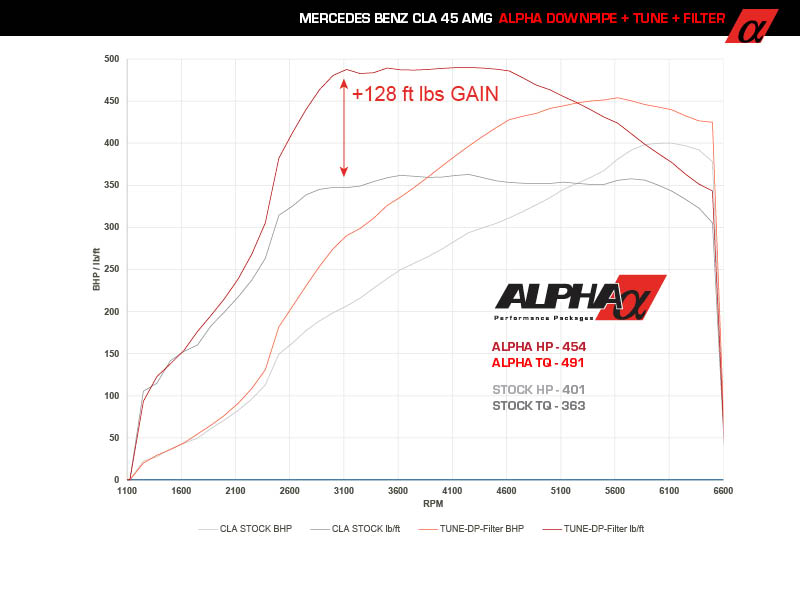 Testing Testing
AMS set a goal to create the ultimate CLA/GLA/A 45 AMG Series of performance parts and that is exactly what we did. How do we know? Testing. When we engineer and build products then release them to our customers we know that they are receiving top tier parts. AMS rigorously tests each product first by itself and then, when appropriate, as part of a complete system. This way we can make sure that one, the car's performance benefits from the product, and two, the customer benefits from the product. This is how AMS has built it's industry leading reputation and will continue to long into the future.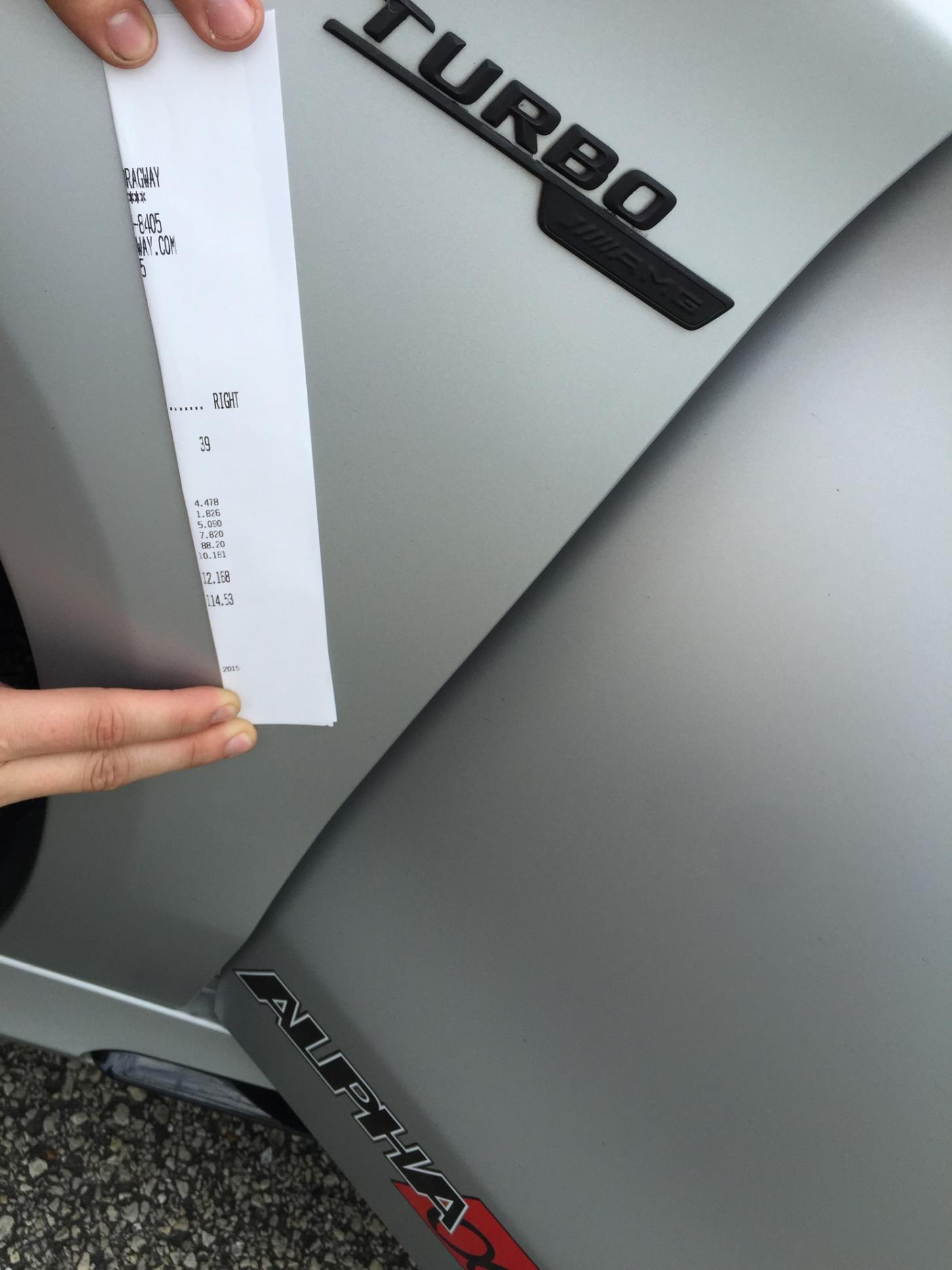 The Future
We have brought the Alpha Performance CLA a long way with all of the Alpha Performance parts that are
now available on our web site
. The recently mounted 
Vorstiener
 V-FF 103 wheels wrapped in the
Michelin Pilot Super Sport
 tires help AMS put the newly produced power to the ground. Is this as far as AMS is going to take the Alpha Performance CLA/GLA/A 45 AMG? It's not even close. Stay tuned into our
Facebook
and
Instagram
accounts for more news regarding planned turbo kit upgrades along with stage packages!