We measure our success by our customers' success, and by that measure 2019 was our best year yet!
We started off on day 1 of 2019 with a message hidden in plain site on our social media post for the new year. The image was very carefully selected to preview one of our biggest goals for 2019, to release the best Huracan and R8 turbo kit to the market. We did it! While the beginning of the year brought exciting new plans for product releases we were also full tilt building customer cars for the very first event of the year, GT-R World Cup.
2019 GT-R World Cup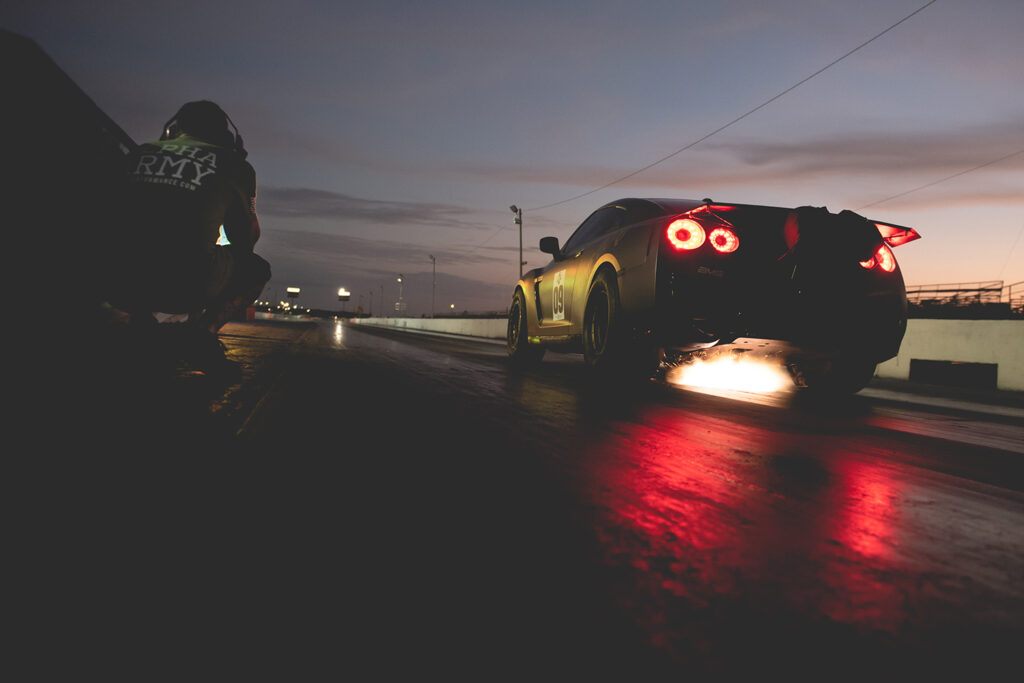 At GT-R World Cup the AMS Alpha crew was represented by an army of GT-R's ready to dominate their classes. The OB Prestige Auto Alpha Queen being the highlight of the Unlimited Class was set to make headlines. Chicago Motorcars' and Drivewire's new Alpha 22's were looking to take the top spots in the Outlaw Class. Dave Rohrschneider had his new Alpha 10X on a track for the very first time. Eric Gaudi debuted AMS' new Omega 12 stock manifold turbo kit. Jordan Campbell was a favorite in the Street Class with his Alpha 7 GTR. John Shepard and his Alpha 16 were looking to three-peat in the Pro-Street class.
The OB Prestige Auto Alpha Queen in her signature copper wrap was sporting new goodies designed to get this one of a kind GT-R into the 6's and reign over the Unlimited Class. The Queen had Alpha's new BIG tire conversion which includes a tubular rear subframe and new Alpha billet knuckles. This new set up moves the rear tire further inboard which allows you to run a larger tire yielding greater grip and lowering 60′ times. In the end mechanical issues in the driveline stopped the Queen from getting that perfect run but you will be sure that they would be going for that elusive 6 second pass at TX2K in March.
Drivewire's Alpha 22 GTR was also running the new big tire conversion, went from an Alpha X turbo kit to the new Alpha 22 kit, upgraded to the new 18 injector carbon fiber intake manifold, and the results were nothing less than spectacular. As he piloted his GT-R through the rounds of eliminations he just kept getting faster and faster. When he lined up for the finals he knew it would take a perfect run to take home the top prize against AMS' Dealer Boostin' Performance. That is exactly what happened. Jordan drove his Alpha 22 to an amazing 7.11 @ at an incredible 203 mph! It was a run for the record books and won him first place in the coveted Outlaw Class, but he wasn't finished.
After Jordan had secured the Outlaw Class win he knew the car still had more in it. He asked the team to give it one more run before the event came to an end. He climbed into his Prime Cuts Chop Shop GT-R and headed to the line. What happened next was the talk of the event. The tree went green and Jordan's car roared to life spitting fire from the exhaust. His big tires ripped at the pavement as he rocketed down the track. When he crossed the finish line the board lit up… 7.06 at 206 MPH! The AMS team erupted in celebration. It was truly a site to behold.
Chicago Motor Cars, like Drivewire, went from the Alpha X turbo kit to the new Alpha 22 kit. They too had their R35 GT-R fitted with the new big tire conversion. They also went lighter adding a carbon fiber roof, hood, and trunk lid. Ultimately their 7.40 @ 201 MPH pass was good enough for a third place podium finish. The results speak for themselves. The Alpha 22 stock location kit with the first and third finish in the class put this kit at the top of everyone's "want" list.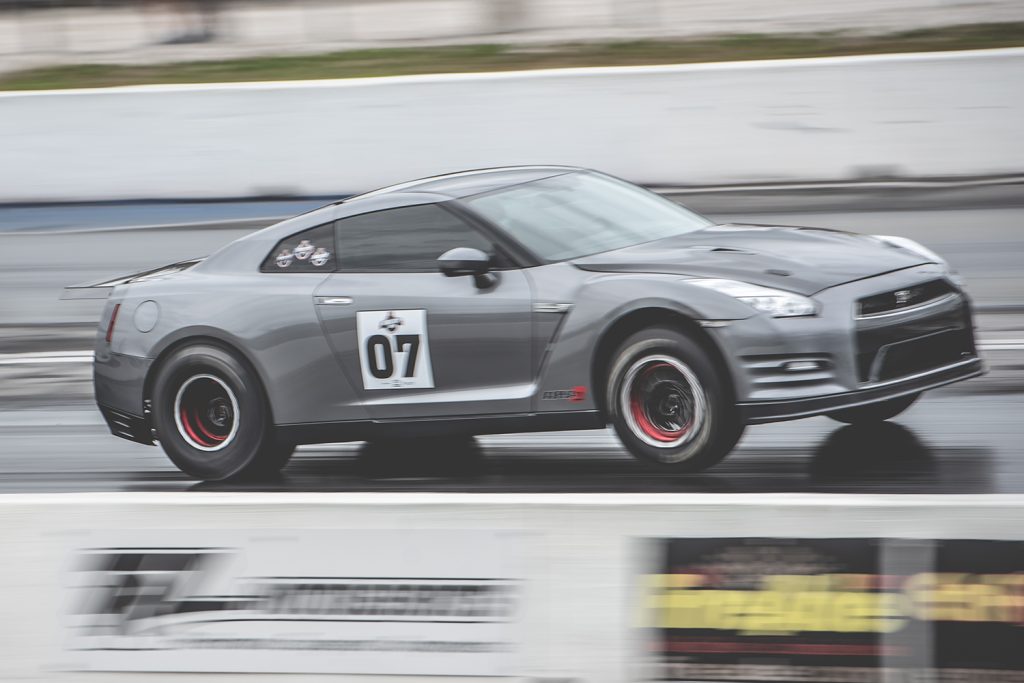 An AMS Customer and friend came to us 10 weeks before GTRWC and asked if we could build him a true 58mm setup to win the Modified Class. Never backing down from a challenge we dug into Dave Rohrschneider's GTR and built a him a rocket. Dave had never raced in an R35 before so this event would be the car's, "Wally," and Dave's test flight. Just like any good test flight there was a chance great things would happen and thats exactly how the weekend unfolded. Dave climbed into his new Alpha 10X for the first time and headed to the line. In his very first run in the GTR he incredibly went into the 7's! The AMS team could not believe their eyes, 7.93 @ 183! He then backed that up with an astonishing 7.58 @ 182, but was DQ'd because he went too fast!
Alpha powered GT-R's also won two other classes. John Shepard and his incredible Alpha 16 threepeats in the Pro Street Class with a run of 7.74 at 182 MPH and Jordan Campbell won the Street Class in his Alpha 7 with a run of 9.84 at 113 MPH! In all, Alpha powered R35 GTR's took first place in three of the five classes. We would also like to congratulate Christine Dodworth in her T1 built Alpha 16 who ran her first 7!
With all of our customer's success at GT-R World Cup we would soon learn it was just a preview of what was to come at the second event of the year, TX2K. First, we had an absolutely huge announcement for our INFINITI Red Alpha customers.
Red Alpha Intake Option Now Available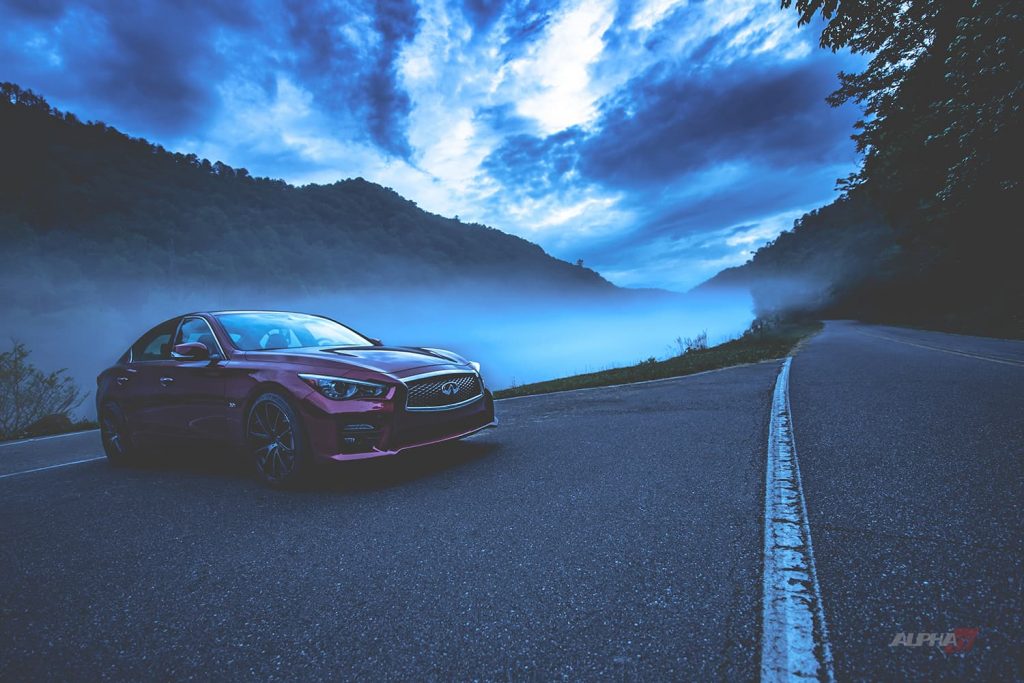 AMS Performance and INFINITI USA were extremely honored to announce that the Red Alpha Intake System was made available, as an option, for your personalized vehicle build on the INFINITI USA web site! Right now, INFINITI performance enthusiasts can choose to add the most power producing, highest quality, and efficient aftermarket intake system available for their VR30 Twin Turbo from the INFINITI original equipment manufacturer. This is a ground breaking moment in AMS' history. It reaffirms our commitment to provide our customers with the finest engineered, built, and performing vehicle components in the world.
TX2K 2019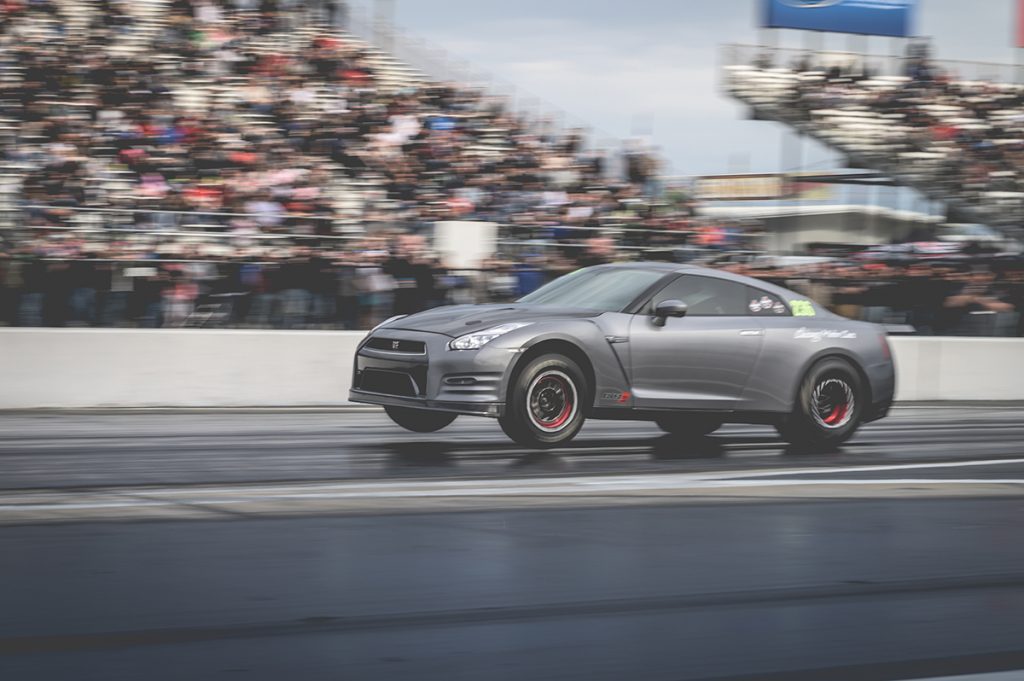 We said earlier we measure our success by our customer's success. When you look at the list of accomplishments from GT-R World Cup and these at TX2K 2019 you can see why we are calling this our best year ever.
ALL cars AMS supported at the event had podium finishes

Alpha Queen runs a 6.87@216!

AMS supported GTR's go 1-2-3 in GTR4 Class

Alpha 22

 wins GTR4 Class

Alpha 12X

 wins GTR3 Class

Alpha 10X

 wins GTR2 Class

Stock location Alpha 22 knocks on the door of the 6's, again

Alpha Wally Resets the 58mm record

Omega 12

 GTR shocks the GTR2 Class, Races in the Semi-Finals

Alpha 16 and 

Alpha X

 go 1-2 in the Unlimited Class Roll Race Finals
TX2K has always held a special place in our hearts. From one of the many record-setting passes in Omega, first in the 9's back in 2010, or the first ever 6-second pass in 2017. This year's event would be no exception. In fact, I can't recall a year where we won more trophies!
TX2K is typically the event where we test out fresh builds and development parts for the first time. With GT-R World Cup being six weeks before TX2K, we had the opportunity to dial in some fresh builds and test new parts there instead. This included our Billet Knuckles and Big Tire conversion. The Big Tire conversion was partially responsible for getting the 4,000lb (Phil, we need to talk about your diet) Alpha 22 of Chicago Motor Cars down the track in 7.3 seconds. Jordan Martin's Big Tire Alpha 22 ran a best pass of 7.06 @ 206 and won the Outlaw Class in the process.
With the testing out of the way, one might think it would be fairly easy to get ready for the big event, right? Wrong! We came back to the shop with a list of parts to test and changes to make. Jordan had nearly two years on his motor and countless 7-second passes on it. This car is still on the STOCK oil system and only running our larger oil filter adapter, modified oil pump, with the AMS wet sump oil pan.  We knew going into World Cup, it would be time for a refresh before Texas. As strong as the billet cranks are, they need to be inspected from time to time. Afterall, these cars are running bottom 7's and making over 2300 wheel horsepower!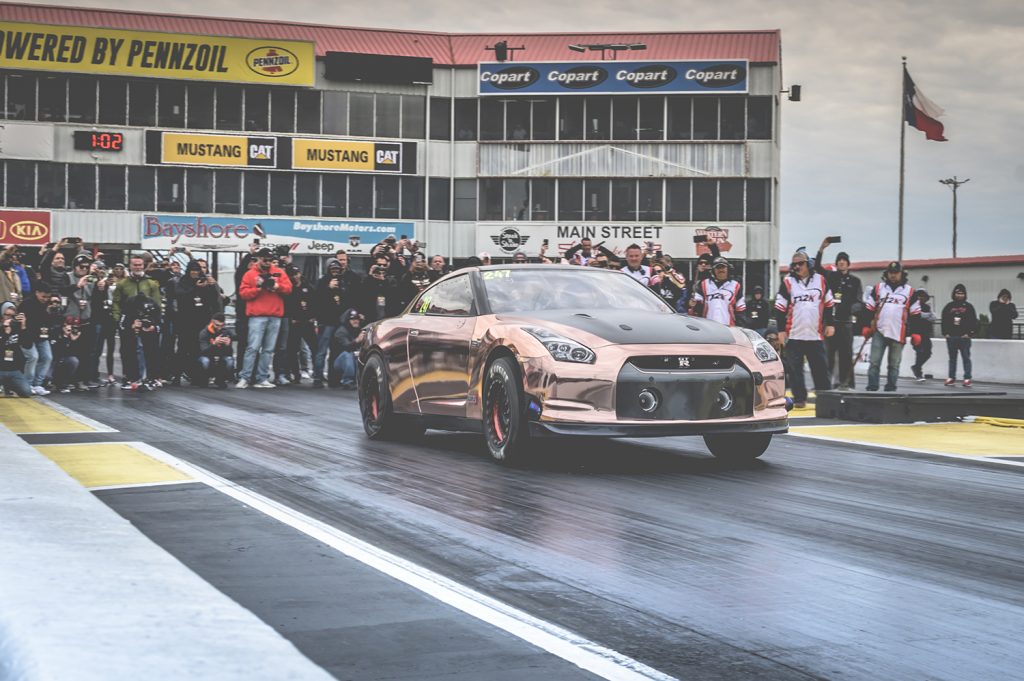 Alpha Queen needed a long overdue update to the turbo setup. The goal for the OB Prestige team was to build a car that would be competitive in the Unlimited class. Alpha Queen debuted at TX2K17. At that time, the landscape for a competitive unlimited car was low 7's. A lot has changed since then and if the Queen was still going to be competitive, we had to make some more power. As soon as we unloaded the Queen after GTRWC, the fabrication team got started. New turbos, new 18 injector intake manifold, the latest transmission parts from Shep and she was ready to roll…with over 3000hp on tap.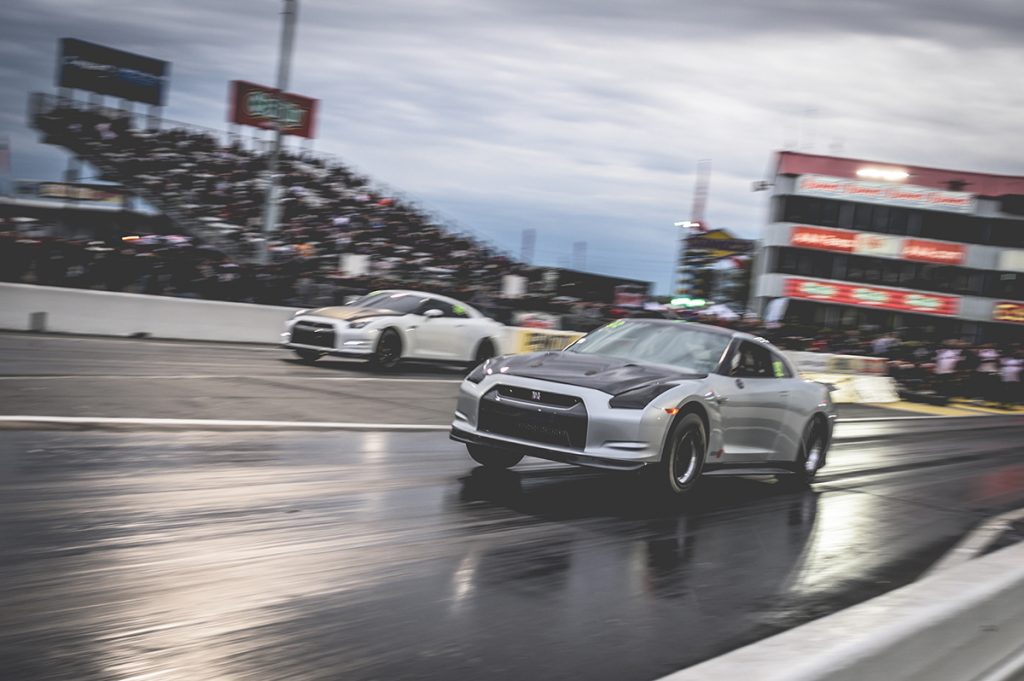 Dave Rohrschneider came to AMS just 10 weeks before the February GTRWC event and wanted to build a GTR to compete in the 58mm turbo class. With not much time to put the car together, we had to move quickly. Using an off-the-shelf Alpha 10X kit would have to do. Dave wanted to make sure he could compete and didn't want to show up out gunned. While the turbo kit is off the shelf, the rest of the car is ALL in. Alpha Spec 4.3 Liter Dry Sleeve block,lightweight subframes from AK Motorsports, small carbon brakes, and methanol. Dave didn't want to mess around. He was able to set the 58mm record at GTRWC with a 7.58 on his 3rd pass down a dragstrip. To get the car ready for TX2K, we swapped the 15 inch slicks for a set of 17's so he could compete in GTR2 class at TX2K. Although we wouldn't have as much tire out back, we were hoping to chop that record down a little more if the track conditions were there.
Drag Racing Qualifying:
Saturday morning rolled around, our team running on very little sleep and a LOT of coffee was ready to get all these cars qualified. Dave in his Alpha 10x was able to not only break his previous record with a 7.56 but it was good enough to lock him in as #1 qualifier. The Alpha 22's of Jordan and Parin were able to lock in #1 and #2 qualifiers with a 7.1@206 and 7.4@201, respectively. Queen continued to fight us having to replace another broken output shaft on Saturday. We were still able to qualify with a 7.09 putting us in 2nd place. That elusive 6 second pass was so close we could taste it.
Unlimited Class: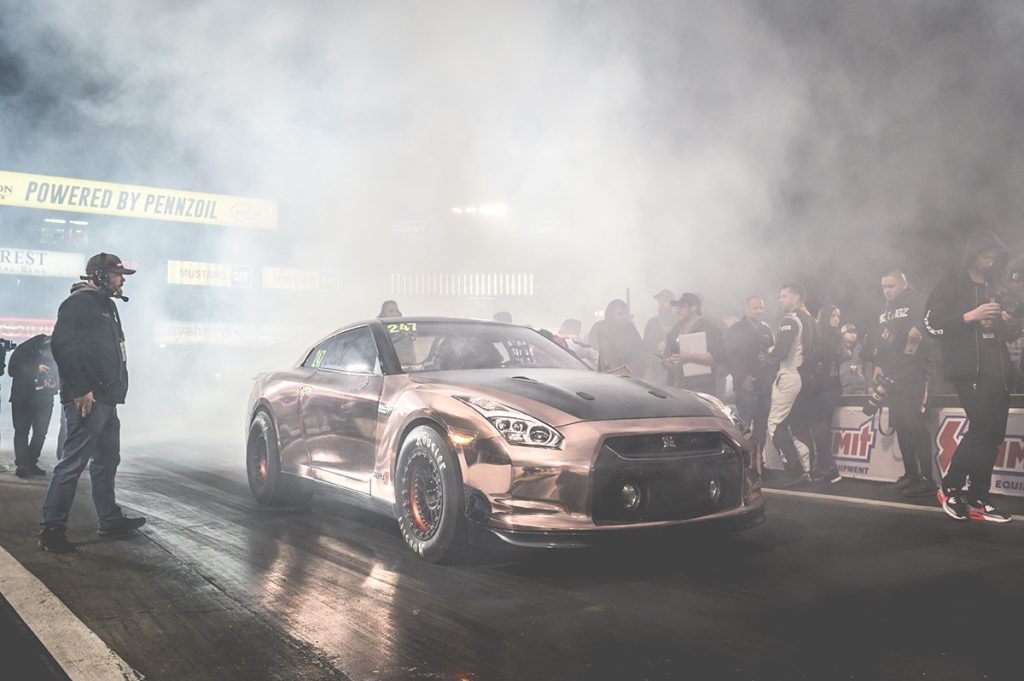 Queen was putting together some impressive 1/8th mile passes (4.568 and 4.552) during qualifying but we couldn't get the car to stay in 5th gear. A rough guide is take your 1/8th mile ET and multiply by 1.5 to get your 1/8 mile ET. We had two choices here. Swap the trans, miss the finals, and try to make that 6 second pass afterwards; Or, gamble on taking some power out of the car on the shift. Knowing that we had a chance to take the win, we decided to take a lot of power (600HP worth!) out in all of 4th gear so it would shift into 5th . IT WORKED, during the Semi-Finals Queen ran her best pass of the weekend with a 6.87@216! The crew at the start line, the crowd there to witness the run, and our guys back at the shop erupted! Their 6 was a long time coming and it couldn't have happened to a nicer team. Everyone ran back to the pits to meet the OB team. We celebrated with a little champagne shower but didn't have too much time before the finals.
Getting the car into the 6's was the main goal for Queen at this event, taking a W in the finals would be the icing on the cake. Unfortunately, the timing just wasn't there. Queen red lit in the last round and brought home second place. She was on another pass though! Queen ran 3.10 to the 330ft mark (.04 seconds faster than the 6.87 run!) and hit a boost cut on the shift before the 1/8th mile marker. The driver heard it and let out. We ALMOST saw side by side 6 second passes in 2019, maybe this year?
GTR4 Class:
Parin and Jordan Martin's GTR's have always been two peas in a pod. They have always looked similar on the outside with both cars being the same color grey. The only way to tell them apart was the wheel color. Their turbo kits have also mirrored each other. Both went from Alpha 12's, to Alpha 16's, to Alpha X's, to now Alpha 22's. At TX2K 2019 we were hoping to see both cars in the finals. These guys always put on a show whenever they race each other. Neither of them want to lose to each other so you know neither of them were going to lift. The way the bracket lines up on a 9 car field, Jordan and Parin (driven by Phil) were forced to meet in the semi finals. Jordan ran a 7.09@206 but Phil took the win cutting a better light with a 7.31@199. This put Parin/Phil in the finals against Marcelo Duran's soon to be Alpha 22. Marcelo and Phil both know how to cut a light. Marcelo just left a hair too quick and red lit. Phil took the win on that pass by simply breaking the beams. The end result was an Alpha powered 1-2-3 podium.
GTR2 Class:
Dave Rohrschneider's Alpha 10x went round for round taking out some other very fast 58mm cars. Dave learned a lot about cutting a good light at this event, which was one of his major focus points in qualifying. Although Dave is new to drag racing, he knows what kind of reaction and focus it takes to win. Dave is a 6 times National Trials Riding Champion. If you've ever seen these guys ride, quick reaction and focus are required more than anything. In the last round, Dave cut a .016 light and took the win for GTR 2. His best pass of the weekend was 7.569@189.10!
Other Notable Alpha Powered GTR's:
In the GTR3 Class the Alpha 12x of Chris Firestone built by the guys at T1 took the top spot and set the Alpha 12x record with a 7.60@184. Josh Hall's T1 built Alpha 12X went 7.84@180 mph. Sam Barros's Omega 12 ran in the GTR2 (58mm turbo class) Class with 54mm turbos and ran a 8.64@160 mph. He made it all the way to the TX2K Semi-Finals! The Omega 12 Turbo kit was by far the most popular turbo kit of 2019.
The Omega 12 Turbo Kit
"8.64 seconds @ 161mph" That is what the clock read on TX2K's board as Sam Barros of Nostrum Energy crossed the line in his Omega 12 R35 GTR setting the record for that kit. The Omega 12 has made huge waves in the GT-R community since we introduced it late last year. It's true "stock like spool" characteristics and nearly 1200 HP are unmatched in the industry. Sam was the second customer to have the kit installed and since then we have had a hard time keeping up with demand. Word of mouth and results like Sam's have really been the driving force behind its popularity. You can even run this turbo kit detuned on a completely stock engine and trans! But, instead of us telling you about the kit, who better than Sam, to give you his experience in his own words…
"AMS Performance's Omega 12 Turbo Kit is the Real Deal!"
Sure, every single turbo kit out there claims "stock like spool". But come on, if you are making more power than stock, it is only because you have larger impellers, and larger impeller turbos take longer to spool up (for various reasons I won't bore you with here). And having tuned and driven at least a dozen different combos, I can tell you that big turbo cars just aren't for me. They're great for racing, but 99% of my driving happens on the street, there aren't too many places where I can use 1000+ hp, but the lag is something you feel every single time you push the gas pedal down. I moved on from laggy turbos the day I graduated college, got a job and sold my Subaru STI and I'm never going back to that again. Also, I really enjoy the occasional track day, and having a car that is slower than stock because it lags on corner exits would make me feel like I wasted my money in modifying it. When Martin, from AMS, told me he was working on a new turbo kit that should "Spool like stock" and "make about 1100WHP on E85", I was equal parts interested and skeptical.
Well, sure enough they do! At AMS's dyno, on the fourth pull I was already taking boost out of the mid-range because the car was making 844ft-lbs torque at the wheels which was more than I wanted on pump gas. I called it good at 988whp/800tq which I later on dialed down to ~900 wheel by taking some boost out for safety and running a very conservative 13 degrees of ignition timing at redline, since this was just on straight up 93 octane pump gasoline. Oh, also this car has catalytic converters and a full exhaust with mufflers and resonators!
Two days later I put some E85 in the tank, and hit 1100WHP / 925ft-lbs torque, which was about what I wanted for a stock block / stock crank engine with just AMS forged internals and Alpha Cams. I went back on pump gas, added an injector controlled, individual cylinder water injection system we are in the final stages of developing, and matched those numbers on Gasoline + Water too, so if I'm somewhere where Ethanol isn't available, I can still make full power.
Way more impressive than the peak power numbers though, is the fact that starting a run at 2000RPM in 4th gear, the car will hit 500ft-lbs torque at the wheels by 2750RPM, and 800ft-lbs before 3500! I have never seen a turbo kit spool this fast, and that includes the extremely high tech Borg Warner EFR 6758s I was running before; the previous fastest spooling turbos on the market; the Omega 12s blow them completely out of the water, outspooling them by 500-600RPM!  Compared to any other turbo I have tuned that has similar power potential, you are looking at peak torque coming, on average, 1000+ RPM later!
On the street the turbos are absolutely fantastic: instant spool the moment you give it any gas; if I'm not on a lower power map, I will frequently see 20 pounds of boost at part throttle in 6th just giving it some part throttle to pass traffic; the car feels like it lost 1000 lbs because of how responsive it is…
But of course dyno numbers are only a small part of the story! Encouraged by what I saw in tuning, I decided to enter my GTR at the TX2K race this year. Now, bear in mind my car is no race car; I drive it to work every day, and my favorite thing to do with it are long road rallies, like the Corsa Coast-To-Coast event that I participated in last year, so when I picked it up at AMS, it still had its snow tires on as I still drive it in winter. It is a full weight car, it has heavy mufflers to quiet the exhaust down, full factory interior and seats, and I even added Dynamat to the trunk to make quieter and more comfortable on long drives; the car weights just 5 pounds shy of 4000lbs with me in it. Running it on the 58mm turbo class with the Omega 12 turbos (which are 54mm), I was clearly outgunned by the competition, most of which are trailered in cars with a lot more effort devoted to making them fast on the drag strip than my simple tire and wheel change at the event. I figured TX2K would be a good place to show up, run a few passes, and then just watch the fast cars race. Boy was I wrong!
At 8pounds of boost off the line, and a 3800RPM launch, the car cut a 1.34 second 60 foot and ran its best pass of 8.64 seconds @ 161mph. At that point I had qualified 12th out of 24 cars and was in the race! I stopped changing the tune and just focused on running. By that point the car was absolutely brutal, pulling 1.8Gs of acceleration to 40 miles an hour, and doing the 0-60MPH sprint in about 1.8 seconds.
As luck would have it, I ended up making it all the way to the semi-finals in my class, something I would never have expected! But the best part was putting the street tires back on and driving the car off to dinner that night; nothing broke, and at the end of the race it was still the same quiet, comfortable, daily drivable car I wanted. Just with over 2X the factory power!
"I think with the Omega 12 kit AMS has hit the ball out of the park in creating the ultimate street car. I don't think there is a single other turbo kit out there that can offer this level of drivability, enjoyment, and spool, while being able to make this much power, at any cost." –Sam Barros, Omega 12 Owner and record holder
The AMS F-150
When AMS opened up shop back in 2001 the very first aftermarket product we engineered was a cam shaft for the punchy 2.3L Ford Merkur XR4Ti. Since then AMS has entered and become a dominant force in many German and Japanese turbo'd platforms like the EVO 8, 9, & 10, Mercedes Benz E63 AMG, CLA 45 AMG, Porsche 991 & Macan, VW MK7 Golf R, INFINITI Q50 & Q60, Audi R8, and of course the Nissan R35 GTR by breaking countless horsepower and quarter mile records. When Ford announced the 3.5L twin-turbo EcoBoost power plant we felt the need to reflect on where it all started for a vision into our company's future.
2019 Big Risks, Big Rewards
From an outside perspective one might think what is a Japanese and German sport compact aftermarket component manufacturer doing with a big truck from the red, white, and blue? If there is one thing that we know it is how to get every ounce of performance out of a turbocharged vehicle. We have an extensive history to back it up. They say in order to get big rewards you have to take big risks and this might be our biggest yet. Introducing the AMS F150 & Raptor Intercooler.
In 2019 AMS was excited to release the F150 and Raptor 3.5L EcoBoost Intercooler! The AMS intercooler features a massive 21″ x 10.25″ x 5.5″ core for unmatched cooling in an intercooler that is 115% larger than stock, that's more than double the size! The AMS intercooler features rough and tough bar and plate construction in a full bolt in kit with no cutting or trimming of your F150. Because the AMS intercooler fits like an OEM piece it retains the factory brackets, top and bottom mounting locations, blow off valve, and factory air ducting. The blow off valve can also be setup to recirculate back into intake or vent to atmosphere to prevent condensation from entering the intake making this a maintenance free intercooler.
The AMS F150 3.5L Downpipes
Our stainless-steel downpipe upgrade is the perfect piece to increase the performance of your high-output 2015+ 3.5L EcoBoost Engine. The Ford F150's factory downpipes are extremely restrictive. Our Engineers utilized the powerful Solidworks software program to design less restrictive transitions for the hot exhaust gasses. The creation of smoother organic transitions allows exhaust gases to flow more efficiently which lets your turbos spool quicker, delivering a ton of power, faster. AMS' Downpipes feature a 24.7% increase in cross sectional area at the inlet, the largest on the market. Our AMS Downpipes' mounting flanges are chamfered to evenly distribute clamping force, and our downpipes feature 49 State legal catalytic converters.
The AMS Raptor & F150 3.5L EcoBoost Turbo Inlet Tubes
We took one look at the almost 20 HP increase in our product testing and knew we had a game changing product for 2017-2018 F150 owners. AMS' Engineers designed this one of a kind product to have a 222% increase in the cross sectional area at the power robbing bottleneck near the turbo inlets. This allows the turbos to breathe easier giving them the opportunity to create more power. Our Engineers accomplished all of this while still retaining all of the OEM fittings which means no check engine light. There are a lot of airbox options on the market so they took extra measures to make sure our turbo inlet tubes work with your aftermarket OEM style intakes. AMS' turbo inlet tubes feature an understated appearance that results in an OEM look and feel in your trucks engine bay. This is a product every Raptor and F-150 3.5L owner should have on their truck.
Mark's Memorial Drag Day 2019
We were proud to announce that the second annual "Mark's Memorial Drag Day" was set for Friday, July 26th at Great Lakes Dragway. We lost our brother, friend, and co-worker Mark to Hunter's disease. There were two things that Mark was extremely passionate about, computers and cars. We were honored to have Chicago Motor Cars as a co-organizer again this year. Last year was a huge success with over $15,000 being donated. All profits from Mark's Memorial Drag Day this year went to the National MPS Society. They're an organization that is at the front of the fight against Hunter Syndrome. You can find out more here… https://mpssociety.org/learn/diseases/mps-ii/
AMS' Biggest Platform Release of 2019
AMS was thrilled to announce the biggest platform release of 2019. Introducing the Alpha 9 Lamborghini Huracán  and the Audi R8 twin turbo packages! Alpha packages have dominated every single platform they've been built for. Countless world records and motorsport championship wins prove to our customers that they are getting the absolute best the performance aftermarket has to offer. The Alpha 9 has been painstakingly engineered and tested to OEM levels of quality, reliability and drivability. The very first 900+ horsepower package, the Alpha 9, sets a new standard in daily drivable, track weapon performance. Available as a turnkey package, installed at AMS Performance or at select AMS certified builders.
Installed in days instead of months

Complete twin turbo kit with ECU & TCU tuning included

900 horsepower on 93 octane pump gas

60-100 in an amazing 2.19 seconds!

60-130 in a blistering 4.69 seconds!

Map Switching

Launch Control

Less money and more power than the competition

Unmatched reliability

9 second quarter mile runs on street tires

Direct bolt-on, no modification to chassis

Hundreds of engineering hours

Better than factory fit and finish

Drives like stock until you mash the pedal

A complete turnkey package

As seen on Netflix's Hyperdrive
The 2020 AMS Supra
Now that we have our Toyota Supra what do we do? Take it to the drag strip right from the dealer of course.  We took delivery of our brand new MKV Supra on the same day as Mark's Memorial Drag Day so we thought it was the perfect opportunity to debut the car and let our fans know that we are serious about dominating the Supra market providing owners with the highest quality, highest performing, components available. You know that our M.O. is testing, testing, testing. So, thats exactly what we did.
If you know AMS you know we are always out front when it comes to the platforms we support. Our customers are confident that they have the very best components in the world for their particular platform.  With keeping in our tradition we added a little race gas, a drag radial, and AMS Tuning and went back to the track a week after we got it to run the first 11 second pass, 11.64 at 121mph!
2019 Corsa Rally Run Vail to Vegas
The morning air was crisp. The temperature in the teens made what leaves that were left on the trees crackle when they moved past each other as the mountain breeze lifted up the hillsides. We were at the beautiful Ritz-Carlton in Vail, Colorado for the start of the Corsa Rally. Our three car team consisted of a 1150 WHP Omega 12 R35 GTR, an 825 WHP Alpha 9 twin turbo Lamborghini Huracan, and our shop 825 WHP Alpha 9 twin turbo Audi R8. The pilots of the supercars, Sam of Nostrum High Performance, Jordan of Prime Cuts Chop Shop, and one very special guest stood at attention for the instructions at the drivers meeting.
Kyle Loftis is the driver of the Alpha 9 Audi R8 and is the owner of one of the most renowned, most highly respected motorsports channels on YouTube. 1320 videos have been seen hundreds of millions of times. You can tell that he is widely known by the number of people that approach him at every stop pleading for a selfie for which he graciously accepts going against his humble nature. Kyle's soft spoken Nebraska accent and patented gentle school boy giggle are recognized all around the globe and are in direct contrast to Jordan's brash booming voice and million mile an hour personality.
Jordan Martin is the owner of an Alpha 22 R35 GTR, one of the fastest R35 GTR's on the planet, a new project to be revealed soon, and the driver of his Corsa Rally Alpha 9 Lamborghini Huracán. Jordan has raced GTR's for years and during 2019's GTR World Cup piloted his stock turbo location Alpha 22 GTR to a scorching 7.06 @206 MPH just missing a six second pass. He and Martin, AMS' CEO, also teamed up on the Netflix series Hyperdrive. Jordan, on this rally, left the GTR driving up to our final team member Sam.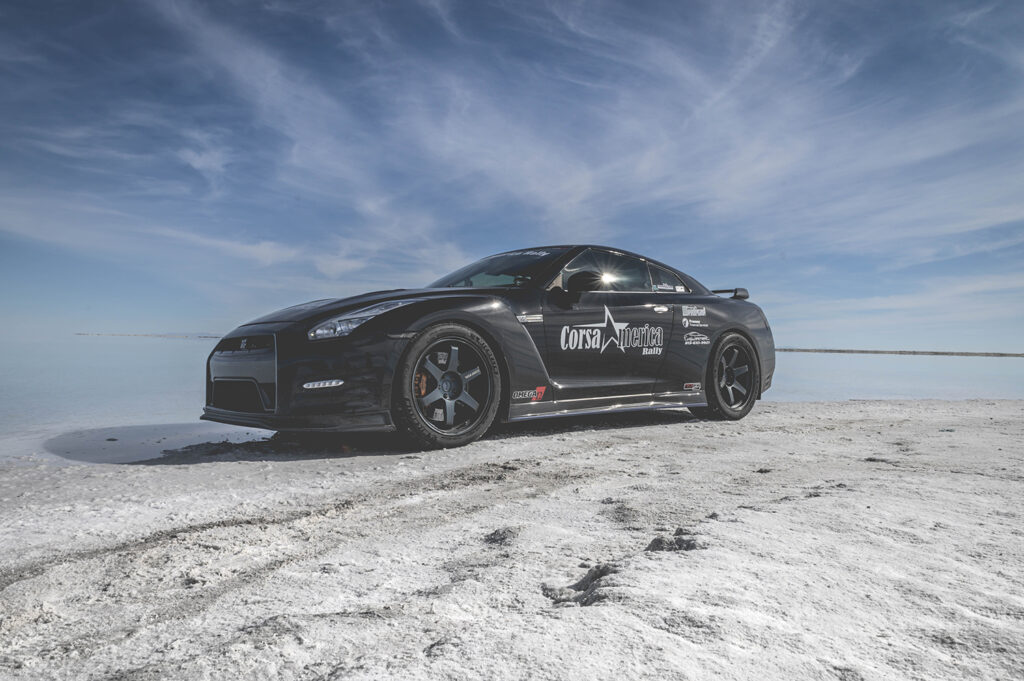 Sam Barros is the Lead Engineer at Nostrum High Performance. His Omega 12 GTR is sporting a very special water injection system that will be a game changing product for the GTR community when it is released. It allows the user to run 91octane fuel like it is race gas. Sam is a rally veteran so it was an easy decision to let him lead the way over the long journey that would put these AMS built supercars to the ultimate test of performance and reliability.
We brought the vehicles to the Corsa Rally to put our newest 900 HP R8 and Huracán turbo systems to the ultimate test. 652 miles in three days at speeds, temperatures, and elevations that would stress test the systems. If there was even the tiniest of issues the next three days would expose it.
"Everybody gather around" crowed the rally organizer at the driver's meeting. The damp underground garage was the launching pad for the rally's 70 vehicles. The organizer continued offering instructions to keep everyone safe and out of trouble. "Stay together, there is safety in numbers," his voice echoed off the grey cement walls. As he finished his prepared instructions the door to the garage cracked open letting in the morning light and the 18 degree temperatures. Today's route was from the start in Vail, Colorado to Park City, Utah. As the drivers strapped themselves into their supercars and rev'd up their engines the sounds rivaled those of world class orchestras.
The Ferraris with their fast spinning V12s struck the high notes. The N/A Huracan's V10's were hitting the middle notes. The V8's and the V6's of the 'Vettes and GT-R's struck the low bass beats. The Alpha 9 R8 and Huracan's turbos whistled with every flick of the throttle. We marched out of the garage and down the mountain on our way to the next destination.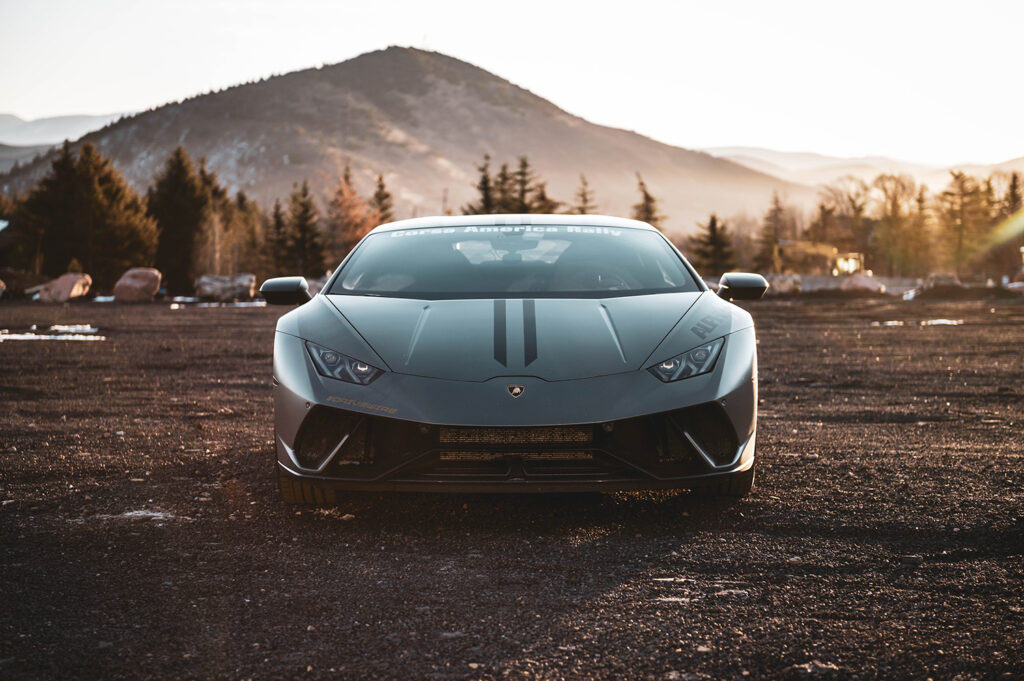 As morning broke on the second day of the rally we were able to sneak out and get a few photos of Prime Cuts Chop Shop's Lamborghini Huracan. Today's route would take us right past the famous Bonneville Salt Flats to Las Vegas. The Salt Flats is a Mecca for auto enthusiasts. It's a magical area where land speed records have been set since the invention of the internal combustion engine. You can't help but look upon the area in awe knowing that you are walking in the footsteps of legends. The scene is other worldly. The extreme environment was the perfect backdrop for these extreme vehicles. This route would be filled with long, and I mean long, straight, flat, smooth paved roads. It would be the perfect test of the vehicles ability to reach high speeds and travel at those speeds for long distances. All three of the cars passed this test with flying colors. We were able to travel at incredible speeds for extended distances and all without a single issue.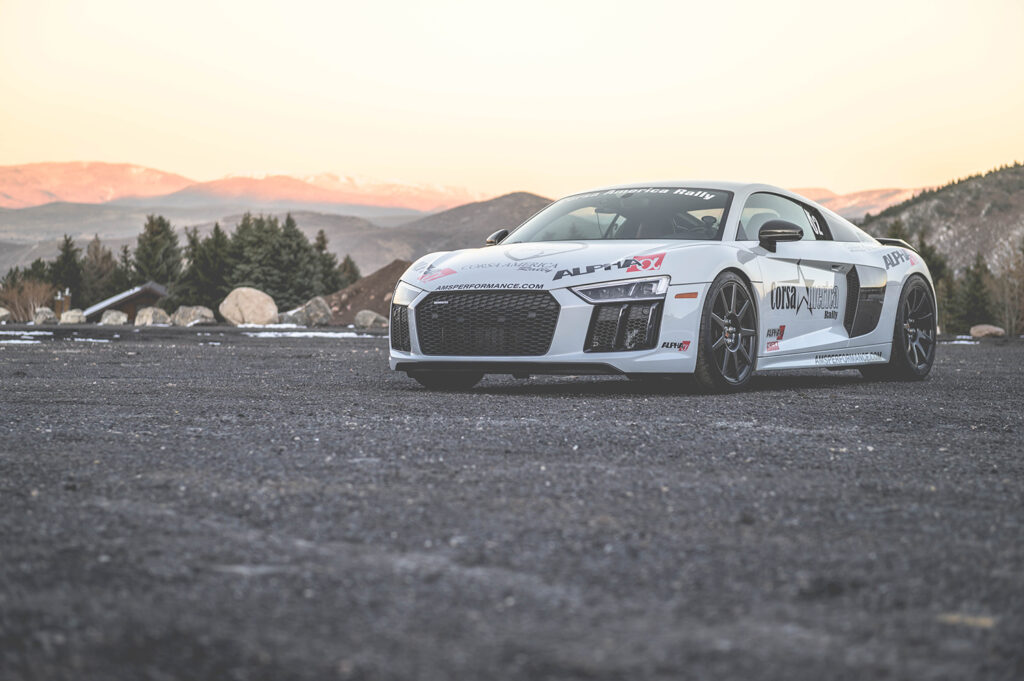 Day three in Las Vegas closed out the rally with a spirited police escort to the Hoover Dam. We had put the cars through one of the toughest tests on the planet. Three days of extremes in temperature, elevation, distance, and speed had not exposed a single flaw. The Omega 12 GTR, the Alpha 9 Huracan, and the Alpha 9 R8 performed absolutely incredibly. At the end of the day each and every member of our three car team knew that they just completed something very special. It will be hard to ever replicate this experience again.
AMS at the 2019 SEMA Show
"Welcome to the SEMA show" the announcer exclaimed over the PA system. You would've thought they had exclaimed "Welcome to the Supra show." To say that the MKV Supra was the star of the show would be an understatement. It seemed as if every one of the 2,400 vendors had their vision for the future of the new Toyota sports car on display.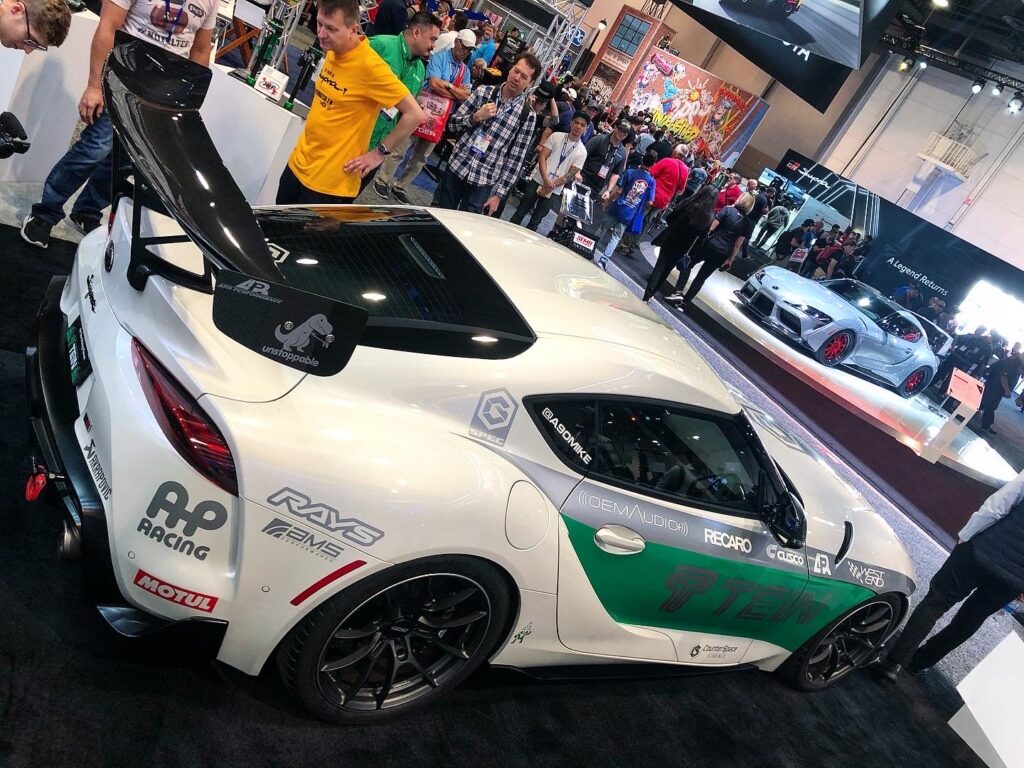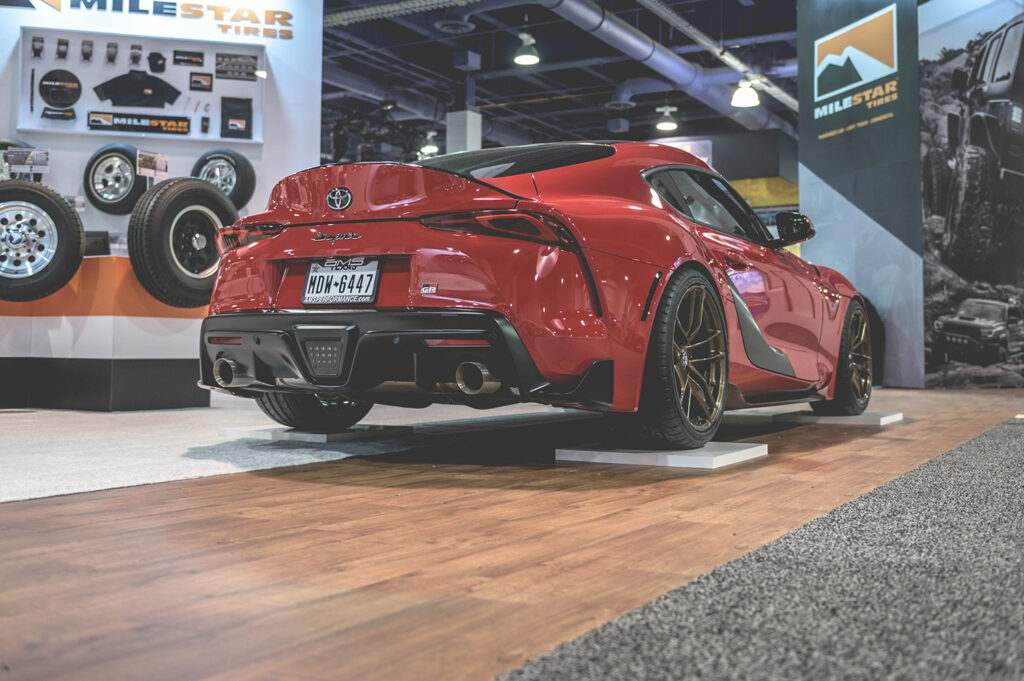 AMS was represented by two new Supras at the SEMA show. We had tuned and upgraded the turbo to a Pure unit on the LiteBright Supra that was on display in the MileStar Tire booth and the CounterSpace Garage Supra that was sporting the AMS MKV Supra downpipe.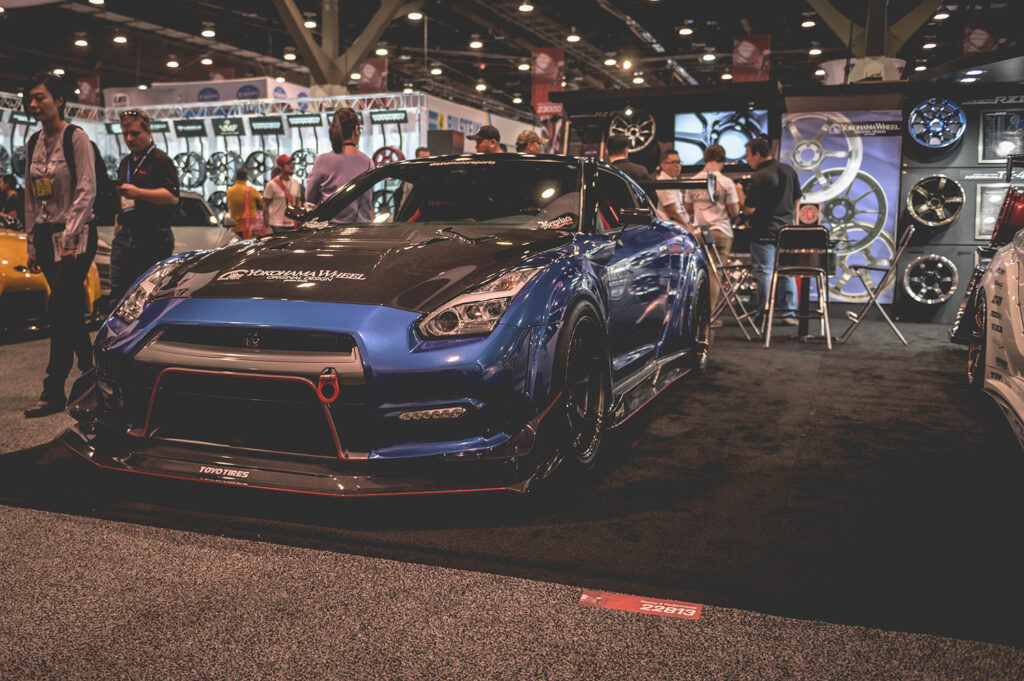 Dazu Motorsports made a huge splash in the Makin Industries booth with an R35 GTR that had the power to match its looks. It features an Omega 12 turbo kit! Using Garrett Turbo's newest line of power producing turbochargers with new smaller packaging and cutting edge aero the Omega series of turbo kits from AMS puts big power down faster in the RPM range. Our first kit, the Omega 12, utilizes the stock manifold and puts you light years ahead of the competition. Time to power is almost instantaneous and leaves everything else in the dust. The Supras and GTR's were not the only big stories at SEMA. Our performance partners also had a lot of exciting news.
Ecutek announced R35 GTR live tuning capabilities and support for the 2019+ GTR's. It was awesome to be a part of the development team for these exciting new features. "Now we are able to adjust almost every map within the ECU live. Previously the tuning was done through recording the engine performance, reviewing the data, turning the car off and programming before repeating the process. There is obviously a large timing saving to be had with live tuning which means we will be more efficient at refining each calibration but more importantly we will also be able to make subtle changes to the setup that simply can't be felt or easily presented by just reviewing data."
Our Biggest Black Friday Ever

We closed out 2019 with our biggest Black Friday sale in our history. We had hundreds of products marked down and you responded by making November 2019 a record month! We are excited to see all of your vehicles getting outfitted with AMS' performance components so keep tagging us in your social media posts.
We want to leave 2019 like we entered it. All of us at AMS want to say "Thank You" for making this the best year in our history. We are excited for what we have in store for our customers, dealers, vendors, and friends in 2020.